Received on Fri, 04 Dec. 2015
I have recommended Dolphin Hellas to many people. I feel that the service and cost of arrangements through this Athens based company is better than doing business here in the states. I will make use of the services again.
D. Smith - North Carolina, USA
Received on Wed, 02 Dec. 2015
I have to thank Uli for one great organised trip, i will recommend her to anyone who wants to go on a trip to Greece!!!
Kind regards
G. van Zyl - South Africa
Received on Wed, 21 Oct. 2015
We have worked with Dolphin Hellas for at least five years in booking portions of our Athens/Cyclades itineraries, including airfares, ferry passage and hotels. In every instance, each year, all arrangements have been made perfectly so that travel and lodging coordinated exactly as planned. We have also highly recommended the agency to friends and colleagues because of our high confidence and trust in the capabilities of Uli Pershau, who always provides timely and exceptionally strategic advice! We would not even dream of attempting to negotiate a trip to Greece without Uli and her team at Dolphin Hellas! It is a highly professional and dependable organization which constantly over-delivers!
T. Mauk - Massachusetts, USA
Received on Wed, 21 Oct. 2015
We would rate the company 5 stars as they were very helpful and polite when we were booking the cruise.
C. Coggins - Dunstable, UK
Received on Sun, 18 Oct. 2015
Uli did a great job. I would recommend Dolphin Hellas to anyone traveling to Greece.
M. Eslaquit – Ohio, USA
Received on Thu, 15 Oct. 2015
We had perfect, correct information from Eleni at Dolphin Hellas. Every question has been answered very quickly. No question was to small to ask. 17 persons arrived for the first time to Greece and Everything Went smoothly. Thank you, we will Contact you again next year.
Eva Groop ("Oändliga Möjligheter") - Sweden
Received on Wed, 14 Oct. 2015
I can't say enough good things about Dolphin Hellas. You made my trip so much better and easier with all of your help. I would recommend Dolphin Hellas to anyone traveling to Greece!
J. Ansary - New York, USA
Received on Wed, 14 Oct. 2015
Dolphin Hellas was wonderful to work with! Uli was our contact, and she was very helpful. We had no problems whatsoever. I was a little worried about not receiving an invoice for our charges, but it turned out the invoice was delivered to our hotel, along with all our tickets and vouchers and itinerary. If you're concerned, you can opt to have your paperwork delivered by email instead.
J. Bendik - Alberta, Canada
Received on Wed, 23 Sep. 2015
Great helpful service. Roula will be booking our 2016 holiday we hope ! We recommend you to others.
M. Wright - London, UK
Received on Tue, 22 Sep. 2015
The planning and organization was fine and other than timing that was out of your control - mostly the Santorini Ferry - everything went like clockwork. Seeing Athens and the sites we toured was marvelous. Thank you for the help in planning a great trip that we allowed too little time for.
P. Goldberg - Texas, USA
Received on Sat, 19 Sep. 2015
Fine, as always!
T. Yohannan - Barcelona, Spain
Received on Wed, 16 Sep. 2015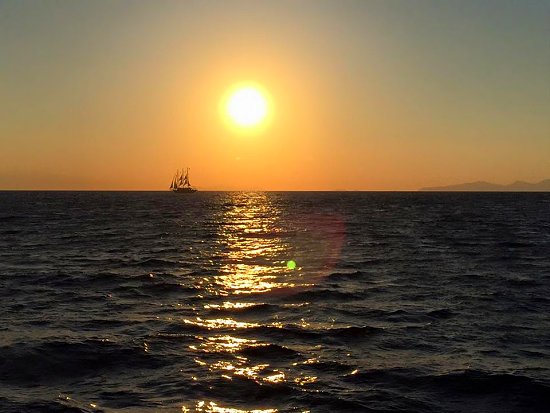 I am so glad I chose a travel agent in Greece, rather than using one in the U.S. Your knowledge and suggestions were invaluable and I have already recommended your business to others in America that want to travel to Greece!
J. Brooks - North Carolina, USA
Received on Tue, 08 Sep. 2015
Hi Uli,
Just came back from Greece on Saturday and had such a wonderful time in your beautiful country. I would like to thank you for making everything possible for a beautiful cruise. My mother and I had a wonderful time. The room, food and the whole experience of the cruise on and off were lovely. And the people are so wonderful. I would definitely love to come back again.
Even though I said I will come and meet with you, sorry I could not meet with you due to very tight schedule.
Thank you again for everything.

Best Regards,

N. Sikka – Ontario, Canada
Received on Tue, 08 Sep. 2015
Thanks to Uli at Dolphin Hellas, our trip was well-planned and relaxing. The hotels exceded our expectations for both comfort and location. Thanks for organizing our dreams into a great trip!
A. Surfleet - California, USA
Received on Mon, 31 Aug. 2015
Dolphin Hellas has exceeded our expectations! They took care of all of us in a very professional but also cordial manner!
Dr. Kaplanidou - University of Florida, USA
Received on Fri, 21 Aug. 2015
Dear Uli: We loved Greece (again).
The country gets a bad rap from the press.
We hope to come again.
Thank you for making our trip so easy.
Best regards

J. Atkin - California, USA
Received on Wed, 12 Aug. 2015
Uli did a great job and booked everything quickly and efficiently. I recommend that people book with Dolphin Hellas. Well done.
J. Allard, Australia
Received on Tue, 11 Aug. 2015
Uli,
We've been back for a week and I just wanted to send you a brief message. We had a wonderful time on our trip to Greece. We loved the people and the country.
You did a great job setting up our travel. The timing of the different stops worked out very well.
We liked all of the hotels Olympion Asty, Agamemnon, and Olympic (Delphi) were probably our favorites. Our least favorite (but still good) was Royal Olympic (Athens).
On our way to Nafplion we stopped at the Epidaurus Theatre and after Nafplion we stopped at Ancient Mycenae. Both were great side-trips. My wife loved the beach at Nafplion.
Santorini was probably our least favorite (but we still liked it). It was too crowded and it was hard to get around. We really liked Naxos a lot. It was much more laid back and very friendly.
We had a wonderful vacation. Thank you for all of your help.


M. Heppe - Pennsylvania, USA
Received on Tue, 11 Aug. 2015
overall, awesome....thanks
J. Roberts - New York, USA
Received on Mon, 10 Aug. 2015
Hi Uli,

I just wanted to write and provide some feedback from our trip to Greece.

Athens was amazing, if time allowed it would have been nice to have a later flight to Zante the next day so we could have stayed in Athens for dinner but 1 day was good there to see a lot.

Zante – if you have never been GO! It was amazing! The island has this natural untouched beauty to it I just can't explain. I found you on facebook so you can see pictures if you want. Hotel Lesante was great! It was a PERFECT location on the island almost center of the island so we drive north one day then south again. Think 5 days there is perfect and having a car is a must!! Also note the concierge (I think his name was Dimitri) was amazing, he guided us all around the island. Only thing I would change would maybe cheaper room since we were actually rarely in the room, or the hotel for that matter.

Mykonos – we could have done without to be honest. Maybe we are a little too old or reserved but it wasn't our scene. Wish we skipped it and went straight to Santorini. Hotel Petassos was beautiful, the room was a little on the small side (especially compared to Lesante which the room was probably 3 times bigger than Petassos), however the rooftop deck with hot tub was huge and unbelievable. We also went there during some not regular weather (wind was 4 times stronger than normal they said which was around 40mph).

Santorini – words just cant describe… unbelievable! Andronis…WOW! The hotel was beautiful! The room was very large as well the plunge pool was a lot bigger than I expected. The staff and people at Andronis couldn't be anymore courteous.

Thanks again for all your help booking probably the best vacation I will ever take!

T. Hantzarides - Connecticut, USA
Received on Mon, 10 Aug. 2015
We recommend Dolphin Hellas --- they were informative and helpful. Next time we will use them not just for a tour but the whole trip.
J. Roche - Massachusetts, USA
Received on Thu, 06 Aug. 2015
Ulli Pershau was fantastic. Very nice, very helpful. Warm, professional, efficient, caring, she should be congratulated, truly.
L. Shapiro - Kentucky, USA
Received on Thu, 06 Aug. 2015
Uli was very helpful and was great meeting our needs
C. Herrmann - Michigan, USA
Received on Thu, 06 Aug. 2015
The service provided by Dolphin Hellas was outstanding as usual. Seventeen years and still counting and we have nothing but great things to say about this agency and especially Uli!
D. Howard - Massachusetts, USA
Received on Thu, 06 Aug. 2015
Overall, this was a great trip. The Island Hopping package is much better than a cruise: it is cheaper and you get to spend more time on the islands. Having the transfers included made the trip trouble free. It would have taken me weeks of arranging to try to set this up myself, but Dolphin Hellas made it very easy. I would recommend them wholeheartedly to anyone.
R. Dubin - Ohio, USA
Received on Fri, 17 Jul. 2015
Everyone was patient with us and helpful as we planned our 30 year anniversary trip.
R. Worsinger - North Carolina, USA
Received on Thu, 16 Jul. 2015
uli was very patient and helpful to us, even when we kept changing our minds
J. Streicher - New Jersey, USA
Received on Wed, 15 Jul. 2015
We enjoyed Dolphin Hellas efficient services and arrangements and would like to convey our deepest thanks and appreciation to Uli Perschau for her outstanding attention and dedication .
E. Shilo - Israel
Received on Wed, 15 Jul. 2015
We are really happy with the services provided by you especially by Ms.Uli Perschau..Thank you for the great experience :)
J. Anand - UAE
Received on Wed, 15 Jul. 2015
Excellent! Uli was outstanding, gave superb recommendations, and really made our trip wonderful. We hope you are doing well in spite of the debt issues going on. We would recommend you to anyone!
M. Russel - Illinois, USA
Received on Tue, 14 Jul. 2015
We had a wonderful agent take care all our needs. I highly would recommend your agency and your agent to anyone. I waited 37.5 years to return to Greece. The last time I was in Greece was 1977. Even thought I can speak Greek, it was a treat listening to the people chatter. Despite the politics, we had a wonderful time. Thank you very much !
J. Burlotos - Pennsylvania, USA
Received on Mon, 13 Jul. 2015
Friendly and efficient, I have come to only expect the best from them.
R. Harper, UK
Received on Sun, 12 Jul. 2015
Hi Aliki,

Hope this finds you well.
...
We had a great time and thoroughly enjoyed every bit of our stay in Greece. Thank you so much for the excellent arrangements. Everything worked out perfectly. Hope to see you sometime. If you ever come to Geneva please let me know.

Wishing you and your family all the very best and sending warm wishes.

Take care,
D. Khan - Switzerland
Received on Mon, 06 Jul. 2015
Dear Aliki,

Greetings from London.
I hope this finds you well.
I wanted to write to say 'many thanks' for your efficient, effective and prompt help with my travel arrangements.

It was a pleasure to spend some time in Greece and your excellent organisation made it much smoother.

I know that several friends felt the same too.

Many thanks.

With best wishes
Sincerely

P. Rughani - UK
Received on Tue, 30 Jun. 2015
Uli,

We had a spectacular trip to Greece, and I wanted to thank you for all of your guidance and assistance.

The trip went off without a hitch.

Highlights were--

*going to a performance of Tosca at the Heroditus Atticus Odeon;
*the Acropolis,
*the Agora,
*the New Acropolis Museum,
*the National Archeological Museum;
*exploring Athens on foot, and checking out restaurants, galleries, etc.;
*driving (to Delphi, Olympia, Nafplio, and back to Athens);
*our visit to Hydra.

We enjoyed dinners at various tavernas and other places, as well as Orizontes (on Lycabettus Hill) and the rooftop restaurant of the Grande Bretagne.

All in all, a wonderful visit.

We are saddened by the fiscal crisis in Greece, with all its sudden twists and turns. I do not think it represents Greece's finest hour....

Nevertheless, I genuinely wish all the best to you, and THANK YOU again for everything! You have been "the best!".
J. Zimpritch - Maine, USA
Received on Sun, 28 Jun. 2015
Uli-

You should know that the Winters family will continue to support Greece regardless of how things turn out.

We love your country and genuinely kind people of your beautiful land.

All Our Love
R. & K. Winters - Texas, USA
Received on Sat, 20 Jun. 2015
Dear Eleni,

We have arrived in Thessaloniki for the last part of our trip and I just wanted to thank you so much for all the arrangements you made for us. Everything was great - excellent choice of hotels, beautiful places, very helpful and punctual drivers and great guides. I look forward to working with you again in 2 years' time and wish you and Greece the very best.


S. Mills - University of North Carolina Asheville
Received on Mon, 15 Jun. 2015
Hi Aliki - we just returned from our 2 week vacation to Greece and Turkey. Thank you so, so much for all your help with the buses and the private boat trip and bbq on Corfu!!! It was all so professional and well done!! All 41 people had a great time, thanks to you and your expertise!! It all went perfect!

We really appreciate all your hard work and suggestions to help make this a trip of a lifetime for all our family!! We look forward to using your travel agency again in the near future!

Sincerely,


A. Tarlas - Missouri, USA
Received on Fri, 12 Jun. 2015
You were very helpful. Arranged a very nice trip for us. Thank you to Uli.
B. Paulson - Oregon, USA
Received on Fri, 12 Jun. 2015
Uli,

We had an absolutely fantastic time in Greece. Thank you for all your efforts and recommendations. The Liana Hotel was wonderful, Maria and Adonis were so helpful and kind. The Herodion was also a fantastic choice, great location, great hotel. It was a real pleasure working with you, and the results were exceptional. Thank you,


M. Calder - Massachusetts, USA
Received on Thu, 11 Jun. 2015
I recommend you and will continue to use your services when visiting Greece
S. Millit - N.Carolina, USA
Received on Thu, 11 Jun. 2015
Thanks to ULI, she is the best, perfect trip advisor and a beautiful person. We will tell all our friends to only use Dolphin Hellas and ULI!! Thank you for the memories that will last a lifetime!
B. Kinder - Montana, USA
Received on Thu, 11 Jun. 2015
Very easy to deal with. Supplied us with good information prior to our trip. Everything went off with no problems.
J. Kirkland - B.C., Canada
Received on Thu, 11 Jun. 2015
I'm not sure that the facts above (see
here
and
here
) will be printed. Telling it like it is is often unpleasant and unwelcome despite the need to bring the facts to the attention of those who have the power to change things.
Our experience in dealing with Uli at Dolphin Hellas was first class. Uli went out of his way to help us with our tours and we recognise his professionalism and attention to detail. Nothing was ever too much and even after the booking was made any explanation or help required was generously forthcoming. I am sure we will use Dolphin Hellas again in the future.
M. Jakob , Australia
Received on Wed, 10 Jun. 2015
They were very helpful and easy to schedule with. I would definitely go thru this company again for more tours.
J. Plocke - USA
Received on Thu, 04 Jun. 2015
We will come back. Believe this is said enough. ;0)
N. Li - Denmark
Received on Tue, 02 Jun. 2015
Uli,

We're back in the US after a fantastic couple of weeks in Greece. On behalf of my entire family, thank you for all the assistance you and your colleagues provided in making it a wonderful experience for us all!

Every detail was as you said it would be and in particular the fact you were able to rebook us in the beautiful Santorini Palace when Loucas experienced its plumbing issues was nothing short of amazing, and truly a "blessing in disguise", as the Santorini Palace was lovely, the staff as professional and accommodating as that of any property I've ever experienced anywhere in the world. The front desk manager went the extra step to upgrade my wife and me to a triple room in order to allow us a room next to our daughters, and with a superior view to the one originally assigned.

Thank you also for arranging the transfers from the port and to the airport on Santorini. While not necessary, that gesture was certainly very much appreciated and was just another testament to your thoughtfulness and professionalism.
I look forward to referring you and Dolphin Hellas to any and all friends and family traveling to Greece in the future!

With warm regards,
J. Fryrear - Missouri, USA
Received on Wed, 22 Apr. 2015
Uli did a great job for us. The hotels were all excellent and when we return to Greece we will be using her again for all of our trip details.
R. Kelly - Ontario, Canada
Received on Tue, 27 Jan. 2015
I wish my trip could have been longer but except for timing of all connections it was a perfect trip! I hope to get to return someday and definitely will trust Dolphin Hellas for my bookings.
S. Chesterman - Oklahoma, USA
Received on Sat, 24 Jan. 2015
Excellently organized. Starting from airport transfer, hotel to the tours it was very smooth. Full credit to Uli and the team. Highly recommended and within our budget
P. Gogoi - Ontario, Canada