How about a relaxing holiday while sailing the Greek seas and other destinations in the Mediterranean?
Here below follows a selection of cruises in Greece & the East Mediterranean for the year 2021 operated by different cruise companies.
Enjoy the affordable luxury of a cruise onboard a comfortable "floating hotel" and visit the Greek islands (Santorini, Mykonos, Crete, Rhodes, Patmos, Paros and more), Nafplio, Monemvasia, Kusadasi (Ephessos), Istanbul…
Select your Greek cruise:
Small ship cruises: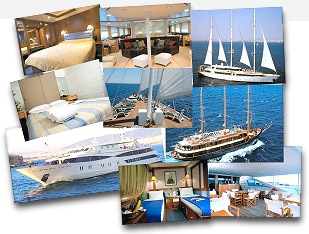 Small cruise ships offer a more casual atmosphere and personalized service.
The itineraries offered are an attractive mixture of the most famous Greek islands with some less known ones.
7-day cruises on small ships (max. 25-26 cabins) to well known destinations as well as to unique and more off-the-beaten-path ports of call.
Large ship cruises: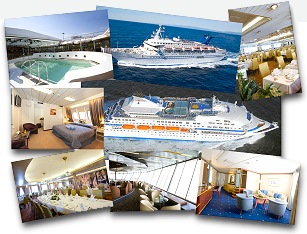 They are operated by vessels of approx. 400 or approx. 700 cabins.
Their main itineraries start from Athens (Piraeus port) but one can embark/disembark these cruises at other ports of call as well.
The 3-day cruise departs on Friday, the 4-day cruise on Monday, while the 7-day ones depart on Saturday.
Departing on Fridays, 3-day cruises are a splendid idea for the weekend:
A 4-day cruise is the most effective and relaxed way of week-days long island-hopping in the Greek islands; it may also be well combined with a couple of overnights on Santorini, the last port of call before returning to Piraeus:
7-day cruises are the most popular cruises to the Greek islands combining history and civilization with the delights of the Aegean sea and sun.
Ports of call: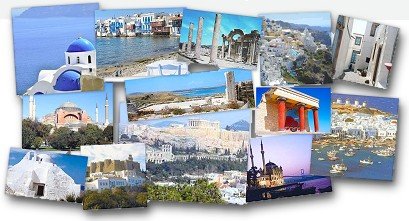 The here presented cruises visit many ports in Greece (mainland and islands) and several ports in other countries in Eastern Mediterranean.
Here bellow follows a list of all of them with links to the corresponding cruises.
1-day cruises
If you are looking for a day tour (no overnight), check out the
round trip cruise from Piraeus or Marina Trocadero to the islands of Hydra, Poros and Aegina.