How about a relaxing holiday while sailing the Greek seas and other destinations in the Mediterranean?
Here below follows a selection of cruises in Greece & the East Mediterranean for the years 2023 & 2024 operated by different cruise companies.
Enjoy the affordable luxury of a cruise onboard a comfortable "floating hotel" and visit the Greek islands (Santorini, Mykonos, Crete, Rhodes, Patmos, Paros and more), Nafplio, Monemvasia, Kusadasi (Ephessos), Istanbul…
Select your Greek cruise:
Small ship cruises: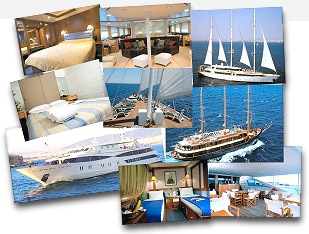 Long before the pandemic made small cruise ships a major trend, there was a dedicated clientele for this type of cruise holidays.
Sailing on board mega yachts or motor-sailors that take maximum 60 people has its charm and appeal. The atmosphere is more casual, passengers socialize more with one another, the service is very personalized.
Small ships are ideal for exploring the Greek islands, most of which do not have large ports and therefore are prohibitive for large cruisers that need tenders (= waiting in line to disembark!).
Their greater mobility and flexibility has produced wonderful itineraries that mix the most famous Greek islands with some less known ones, as well as superb near-coastal voyages of the Greek mainland.
The lack of on board facilities such as casinos, shopping arcades, pools and theaters with live entertainment is offset by easy access to the shore, swimming off the ship into secluded beaches and secret coves, small group shore excursions that enhance the travel experience and fine dining.
7-day cruises on small ships (max. 25-26 cabins) to well known destinations as well as to unique and more off-the-beaten-path ports of call.
Large ship cruises: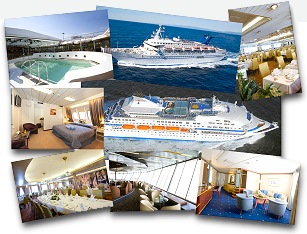 By American standards, the cruise vessels featured in this section are quite small, as they accommodate 1200 up to 1600 passengers.
They offer all the comforts and amenities of the larger ones: swimming pools, Jacuzzis, beauty salons, wellness facilities, spacious lounges, bars, discos, casino, shops and more. Their smaller size and capacity, however, makes them more flexible, even when tenders need to be used.
The islands included are the jewels of the Aegean sea crown: Mykonos, Santorini, Crete, Rhodes. Who hasn't at least 1 of these on their travel bucket list! Alongside these stand some hidden gems: Milos, Syros, Patmos. And since you are in the "neighborhood" why not pay a visit to selectively chosen ports in nearby Turkey or venture even further to Israel, Cyprus and Egypt! A great way to make the most of your holidays, a familiarization trip that will open your appetite for more.
Departing on Fridays, 3-day cruises are a splendid idea for the weekend:
A 4-day cruise is the most effective and relaxed way of week-days long island-hopping in the Greek islands; it may also be well combined with a couple of overnights on the last port of call (e.g. Santorini) before returning to Athens:
7-day cruises are the most popular cruises to the Greek islands
combining history and civilization with the delights of the Aegean sea and sun.
Ports of call: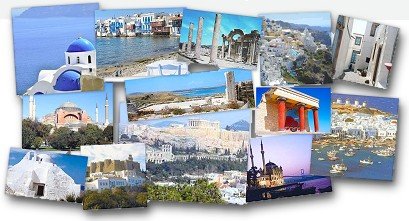 The here presented cruises visit many ports in Greece (mainland and islands) and several ports in other countries in Eastern Mediterranean.
Here bellow follows a list of all of them with links to the corresponding cruises.
1-day cruises
If you are looking for a day tour (no overnight), check out the
round trip cruise from Athens to the islands of Hydra, Poros and Aegina.
to the islands of Agistri, Moni and Aegina.