Received on Wed, 03 Dec. 2008
Hello Uli,
You may not remember me but you arranged an excellent tour for us (the Suters & the Griffiths) in the fall of 2005. Cycling friends of mine, Blandina & George P., are thinking about a Boat/Bike tour of the Cyclades.
Hoping that all is well with you.

Best Regards,

Frank Suter

----------------------------------
Hi Blandina & George

Finally found the info on the Athens agent we used to make our bookings for our 3.5 week trip in 2005.

Dolphin-Hellas Travel - Large, reputable agency, visited offices, friendly staff, multi-lingual
16, Syngrou Avenue
117 42 Athens, Greece
(About 100m from Acropolis metro station)
Hours: Mon.-Fri. 9:30-18:00, Sat. 10:00-17:00

Agent:
Uli Perschau -Most helpful, friendly, conscientious, found good value, trustworthy, used Visa
speaks Greek, English, German, Italian, found excellent 4day Classical Greece tour
(see attachment), reasonably-priced hotels in Athens & Islands, Ferry Reservations

Email: uli@dolphin-hellas.gr

Phone: 011 30 210 9227772,3,4,5

I'm forwarding this to Uli so she'll recognize you if you decide to contact her.

Best Regards,


Frank Suter - USA
Received on Mon, 10 Nov. 2008
Dear Uli - I tried to call today - but could not get the number to work....but I just wanted to let you know HOW HAPPY YOU HAVE MADE US - WE HAVE HAD THE PERFECT TRIP - THANKS TO YOUR GOOD SUGGESTIONS AND PLANNING!!!

Dana's Villa in Santorini was DIVINE!!!! The drop dead gorgeous view was enough to stop us in our tracks as we climbed down the steps on arrival! Our room was perfect and the staff was just so wonderful seeing to everything....after our first night there - I mentioned that I hoped I didn't fall down the stairs of our "loft" area in our little suite - and they said (Peter and his sister was amazing!!!) let us see what we can do....and that evening Mike and I were "upgraded" to another apt - with our own private balcony and it was like the honeymoon suite - away from all the rest - and very private. My husband thought I'd paid a lot more money to move and I told him that the staff just did it as kindness - no extra money needed......we were in heaven....I'm so glad we chose Dana' Villas - the location is perfect and we got used to the stairs quickly. We rented a 4-wheeler ATV and scooted all over the island...what fun!

The transfer and all went great and we were off the Rhodes and then when we came back to the Adrian here in Athens -*(we're here for 2 more nights...) we couldn't believe they had given us an even larger room with a private balcony view of the Acropolis...YOU ARE GOOD!!!! At any rate - we have just had a most wonderful trip and I thank you sincerely - wishj I could do it in person - but I plan to write a nice letter of recommendation on your website as my thank you to Dolphin Hellas....thank you so much for everything - our trip was problem,stress free thanks to you and we are so grateful.....I will highly recommend your agency should anyone be coming your way! the Adrian is the BEST place in the Plaka and the DANA Villas is the best in Santorini - our best to you and thanks for everything!

Cheryl and Robert Potter – USA
Received on Thu, 06 Nov. 2008
Dear Uli,
I am writing to thank u for the brilliant time we had in greece!!!
we think u did a great job and it was a lot of fun,
The cruise was fantastic!!
thnks again,

H. Wagh – UK
Received on Sat, 25 Oct. 2008
Dear Chrissa,

Just to tell you that we are on our flight back to Malaysia.

Thank you very much for the assistance. We enjoyed ourselves tremendously during the 3 days tour, plus the islands-santorini and crete.

We will surely recommend your service, should any of our friends come to Greece.

Thank you again. Pls say hello to Melitha.


kali mera


Wan Aida & Ainul – Malaysia
Received on Fri, 17 Oct. 2008
Dear Dennis,
Well we are back to reality and back to work. I just wanted to thank you for your help and sorry we did not get to stop in and meet you when we were in Athens.
The Hotel Loutraki was just wonderful. Our room was beautiful, great food, perfect location and the staff were a pleasure to deal with. Except for one delay going from Santorini to Mykonos, because it was too windy for the ferry to run, everything was right on time. We were lucky that the our suite at Suites of the Gods, was not booked for that evening so we were able to stay there another night. Greco Philia in Mykonos was kind enough not to charge us for the missed evening. Our stay in Athens was at the Hera and I'm sure you know what a lovely hotel and location that is.
All in all it was the perfect 25th wedding anniversary trip! We hope to do this again in a year or two and I will most definitely use your services to book the entire trip for us.
Thank you for all your help.
Warm Regards

K. Carlton - USA
Received on Mon, 13 Oct. 2008
Hi Chrissa,
Thank you for your help.
We found the hotel to be great for our needs, clean, bright and cheerful. The room was big, the balcony a nice touch, (although there are no rooms with an Acropolis view), the lobby, bar and restaurant area were nice and the staff friendly and helpful. The location was great, we walked all over the place.
The 2 tours filled our needs. Key Tours was on time and friendly.
The city of Athens we found to be very clean and full of people who spoke English...at least in the tourist areas where we were. The hotel didn't even have bilingual signs...just English! And dogs everywhere! We heard a little bit about them, but who feeds and cleans up after them?
You also did a great job with the weather, just windy one day.
Thanks again,

J. & B. Armstrong - USA
Received on Mon, 13 Oct. 2008
Dear Uli,
Just returned from our fabulous holiday in Mykonos and Santorini. We wanted to thank you for all your help. All the transfers and bookings were perfect. We couldn't imagine ever organising a future trip to Greece without your assistance. Thanks and best wishes

K. & R. Dalton - UK
Received on Wed, 01 Oct. 2008
Uli,
How are you?
I want to let you know that everything was great on our trip. Your hard work made me look good to everyone in my group. The all had a great time.
We had no problems and all the accommodations were great.
Thank you for all your help and I hope we can plan another trip to Greece together.
Thanks again,

J. Kekeris - USA
Received on Sun, 28 Sep. 2008
Dear Uli,
We are now safely back home and just wanted to thank you for helping us to plan our Greek adventure. We had a wonderful if tiring week on the Classical Tour followed by a slightly more relaxing cruise. We all enjoyed seeing the sights but our daughter who is studying Ancient History was particularly impressed and I am sure will return. In fact we are all looking forward to returning to Athens when the new Archeological Museum opens.
Thanks again we will remember our visit for a long time and it was well worth the effort in the planning. Please thank Maria as well for looking after our luggage while we enjoyed our last day in Athens.

S., I. & G. Hammond - UK
Received on Fri, 26 Sep. 2008
Dear Uli,
We have returned from a wonderful trip to Greece and France. And your part of that journey was carried out fabulously. All of our documents were at the Pan Hotel when we arrived. The ferry and the flights were all in place. We had a great trip and thanks to you everything went smoothly. It isn't often that you can travel for 6 weeks and not run into any problems! It also helped that months before the trip I could email you with questions and know that I would have an answer within a day.
So thank you so much for your part and when we return to Greece it will be with your help.
Best Regards,

Sh. Mander - USA
Received on Thu, 04 Sep. 2008
Dear Uli,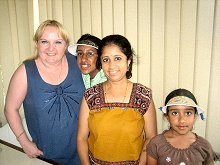 We (Chandra, Mythili, Maheetha and Meghana) returned from a wonderful trip to Greece, Egypt, Israel, Cyprus and Turkey . Even thousand thanks will not tell how much we appreciate your help. Without your help we would not gone on this trip. Your perseverance in getting a cabin in the Blue Monarch cruise got us into this trip. We had never come across a travel agent who is as thorough as you and gives important to details. The cruise you had booked us on (Blue Monarch) is a life time experience. The ship was small but the staff were very friendly. They went out of their way to get us Indian Vegetarian food. The hotel you had booked us in Athens - was at the heart of the city and the staff were very helpful. The flight to Istanbul was on time and the least expensive. Your tips about Athens - the places of interest, transportation etc were very very helpful. I can go on an on....

Again thanks a lot for all your help. Please put this in the dolphin hellas website testimonials. or please let me know how to do that...

Please keep us in mind, when you get any info on any new cruises. Attached is the picture I took when we met.


Regards

Bharadwaj family (Chandra, Mythili, Maheetha and Meghana) – Missouri, USA
Received on Wed, 20 Aug. 2008
Dear Chrissa

Now that we have returned from our holiday in Greece I'd like to thank you again for the trouble you took to book all those hotels for us. Everything went very smoothly, the hotels were excellent, the staff very friendly and we had a wonderful time. Even the ferries were on-time (very punctual) and they did have us on their computer! Thank you also for the brochures you so kindly left for us at the Athens Gate Hotel. They were very useful.

We really enjoyed ourselves and will definitely return to Greece one day.

With best wishes,


V. Jennings – UK
Received on Sat, 19 Jul. 2008
Dear Mrs. Perschau,
Thank you for all the work involved in organizing our 7-day Golden Fleece Cruise. We thoroughly enjoyed it and everything went very well. The people from Monarch Cruises are truly professionals. We now are back in our daily life in Venezuela but the feel of the "greek spirit" (pride in their country and history, hardwork and thriftiness and hospitality towards all) remains with us.
Best Regards,

N. & L. Romero - Venezuela
Received on Sun, 13 Jul. 2008
Dear Uli
Just a quick email to say thanks for organising our trip in Greece for us.
We had a lovely time.
It is great that when we arrive at our hotel in Athens, there's an envelope waiting for us with all our boat tickets and hotel vouchers, and even a map of Athens with our hotels marked. It means we don't have to worry about anything, we can just relax.
Thanks also for requesting a quiet room for us at the Hotel Cecil. It really makes a difference being higher up and it's certainly adequate for a couple of nights in Athens. It's true that the Acropolis View is nicer, but the Cecil is so convenient for Monistiraki metro for the airport and Piraeus.
The Mykonos View was very nice, lovely pool and bar area, and the staff really friendly - they even called to check that our catamaran was definitely on its way when it was late. The kitchens in the studios could do with a few more items, but it was fine for a couple of nights.
The Villa Kalimera on Santorini was ok, it's a pleasant little complex, but the room was a twin, not a double, and the beds had wooden frames all round so you couldn't push them together. Although there was a terrace off the room, there was absolutely no view because it is surrounded by a wall which is all you can see if you sit there. And it's not a great location, especially if you don't feel like driving, because the last buses from Ia or Fira leave before sunset. But it was quiet and there were some reasonable eateries in Akrotiri village.
We did manage to find a pension in Katapola. I can understand why you don't represent any of the accommodation there - it is not of the same standard. Aegiali seemed like it would have been a nicer place to stay. But Amorgos is a lovely island, very quiet and beautiful views.
All the boats were fine (if not always on time, but that's no problem). It's a shame they don't let you sit outside though. The Flying Cat 3 was very smart and very fast - Amorgos to Pireaus in 4 hrs.
Anyway just wanted to say thanks and we will certainly be in touch again next time we come to Greece.
Best wishes

S.-J. & R. Theune - Belgium
Received on Tue, 03 Jun. 2008
Dear Chrissa,

We returned from our fabulous trip from Greece on Sunday.

Both the bookings-Cypria as well G.O tours-3 Day Delphi-Meteora tour went as planned.

The hotel was ok but the tour was superb.

Thanks for all your help in planning our wonderful trip. I will strongly recommend Dolphin Hellas to any of friends/colleagues who plan to visit Greece anytime soon.

Regards,

Ashish and Pooja Mendiratta - USA
Received on Mon, 02 Jun. 2008
Kiki

You probably thought that we forgot you already but I only came out to work yesterday and my computer at home isn't working right now.
Kiki this is a note to let you know how thankful we are for all the hard work you put in to ensure that our convention was a success after all the negatives before getting to Greece. You, Aliki and your other co-workers and the Greeks we came into contact with have certainly changed our views of the Greek people which Ms. P. helped to create in our minds initially.
...
With Greece behind us but the memories indelibly etched in our minds, we are now on to our planning for Egypt. I will take into consideration all that you have suggested regarding that venue to ensure that we have a smooth Convention.
Guardian Life of the Caribbean Limited
Received on Sat, 31 May 2008
Dear Kostas,

Just want to really thank you and Esther for all your help. My husband and I had a wonderful honeymoon in Greece. Everything was very well planned and organised. Thank you once again for your efficient, reliable and trustworthy service. We will definitely recommend your agency to friends who are going to Greece.

Blessings,


R. Lim – Singapore
Received on Wed, 28 May 2008
Dear Uli, Mona, Amy, Tola, and I just returned from our fabulous 10-day trip to Greece! We had a such a lovely time exploring your historic and beautiful country. We enjoyed the wonderful hotels you booked for us as well as the joy of knowing all those travel details had already been handled. Thank you so much--I'll be sure to recommend you to friends!

Best Regards,

K. Ilesanmi - USA
Received on Tue, 27 May 2008
Hello Kostas,

We have returned from our vacation and I want to thank you (and Esther) again for your help and hard work. All of the arrangements you made were trouble-free. The non-smoking business class seats that were booked on the two highspeed ferries was especially appreciated. I would not have know to request this option and it really made our travel much more comfortable.

Sincerely,


B. Stackhouse - USA
Received on Sun, 04 May 2008
Uli,

We stopped by your office on Friday to say hello and thank you for the arrangements, but you were not in the office yet. Sorry we missed you.

As for the trip, everything was great. The cabins on the ship were perfect, we really enjoyed the excursions, and the Herodion was perhaps the best value we have ever seen in a hotel of this price range. I can understand why you have not had any complaints about the hotel. You can not fail to be impressed if you sit on the roof garden after dark looking at the acropolis. And the location makes all of the monuments, shopping and dining within walking distance.

Of course now we realize how much more there is to see in Greece, so we will have to come back. When we do we will make sure to have you do our arrangements again.

Thanks again for all your efforts.


B. Conley - USA
Received on Tue, 18 Mar. 2008
Dear Eleni

Kaleemera mon ami

We were thrilled to receive the photographs taken at our farewell dinner and your Company calendar, which you forwarded to us via Eurovista Holidays & Williment World Travel.

It was a wonderful evening which we saw the floodlit acropolis and the photographs reminded us not only the vista but also great cuisine and enjoyable company. We were also really interested to hear about your personal background including your family.

The photographs reminded us of the hugely enjoyable holiday we had during the tour which your Company organised for us and which was enriched by the manner in which Emilios conducted the mainland leg. We are still recalling many of the highlights and wishing we could re-live them in reality once again. We also learnt a great deal about the past history of Greece from Emilios including the various incursions of other people such as the Romans, Venetians, Turks and as far back as the Phoenicians. Margaret felt that when we filled in our immigration form on arrival home we could have truthfully recorded that our travel was "Educational " rather than "Holiday".

Regrettably we will not be coming to Athens soon - we are actually going to Turkey in July and then to Burgundy in France. We would have liked to have Emilios guide us in Turkey but we presumed this would be too much to expect of him. Please convey our greetings and best regards to him.

Once again efkhareesto poli for the photographs - they now form a grand finale to our Greek Photo Albums

With our best wishes for 2008

Lyle and Margaret
Received on Fri, 04 Jan. 2008
Ms. Lassauer - Thank you for your holiday greeting. I wish you a happy new year. I want to tell you that with your assistance my Greek vacation was wonderful. All our travels in Greece went smoothly, so a belated thank you. Next time I go to Greece, I will definitely contact you!
L. Rizzo - USA