Received on Mon, 13 Feb. 2023
Great communication: extremely responsive, answered the questions I asked, arranged vegetarian meals. Connected us with tours that made our tip to Greece enjoyable and memorable.
J. Band - Maryland, USA
Received on Wed, 08 Feb. 2023
This is the second time we have had Uli arrange travel for us and she did an amazing job both times getting everything we wanted and making our travel worry free and so easy.
K. Stevenson - Canada
Received on Tue, 08 Nov. 2022
Received on Sun, 06 Nov. 2022
This was my 2nd experience with Uli and Dolphin Hellas. All arrangements and bookings were perfect. Thank you for making my vacation enjoyable and stress free.
M. Vassallo - Florida, USA
Received on Fri, 04 Nov. 2022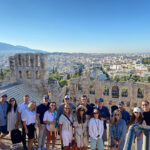 I needed to organize a tour for our friend group from the U.S. and from the start, email communication was always friendly, helpful and fast. We needed arrangements for pick up for two groups at two hotels (and store our luggage on the bus), then tour the Acropolis/Museum and take us from there to Port Piraeus. The bus transfer was so comfortable and nice, driver was helpful and prompt, our tour guide used the whispers which make groups tours so much better so you can hear everything and we learned so much in our limited amount of time. Dolphin Hellas was excellent and I would use them again! 10/10!
A. Leaver - Nevada, USA
Received on Thu, 15 Sep. 2022
We are so glad we chose Dolphin Hellas to plan our first visit to Greece! We had an amazing time. Uli was wonderful to meet all of our requests, answer questions, and make excellent recommendations. Particularly her selection of Golden Milos Beach hotel in Milos was a highlight of our trip! We can't wait to return soon.
B. Beaty - Alabama, USA
Received on Sat, 10 Sep. 2022
No problems whatsoever. Trip was well planned and went off perfectly. Uli was very professional. I would definitely call on her services again. Thank you Uli!!
M. Robbins - New York, USA
Received on Sun, 04 Sep. 2022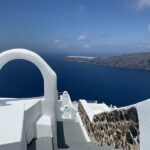 I've used Dolphin Hellas twice, first for my honeymoon and second for a girls trip. Uli was our agent for both trips and she is simply amazing. I trust her completely in all her recommendations for accommodations, transfers, excursions, etc. The hotels she's booked are always exactly what we're looking for, great locations, excellent service, clean, and excellent quality food. The transfers make things so convenient and the drivers are always professional and punctual. If you start your trip planning with Dolphin Hellas you are guaranteed to have a stress-free and picture perfect vacation. I will continue to use them for every future trip to Greece!
M. Scaramuzzo - Cork, Ireland
Received on Sun, 19 Jun. 2022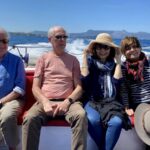 Dear Uli,
Philip and I would like to send you our huge thanks for yet another perfect Greek holiday you organised for us and our friends.
It is so wonderful to be able to know we have a trusted travel agent in Greece. It makes everything so much easier for us.
You are always so cheerful, efficient, wonderfully helpful, nothing seems to be a problem for you that you cannot solve, and never once did you complain when we changed our minds yet again about the itinerary...
Everything that you suggested, every hotel, every ferry, it worked perfectly.
We have recommended you, with glowing praise, you to so many friends.
Very best wishes, and I am sure we will be back to you again for another Greek holiday.
Janet and Philip C, Oi, Elsa and Philip A. - Australia
Received on Thu, 16 Jun. 2022
Hello Aliki,
I just wanted to write to convey my deepest thanks for helping us organize a wonderful trip to Greece. It was just great! Theophanos Art Hotel ended up being lovely and every spot had it's own special quality. Panos and all of the drivers were really professional and helpful, and it was SUCH a great trip!
Thank you again for all of your help. You made it another really memorable trip to Greece!
Warmest regards,

C. Rickard - Virginia, USA
Received on Mon, 13 Jun. 2022
This is the second time we have used Dolphin Hellas to help organise our Greek holiday. We have visited some 10 islands ( and Athens ) across both trips and all our hotel bookings, ferry trips and ground transfers have been organised by Uli Pershau at Dolphin Hellas. It has been a great pleasure planning our trips with Uli. She is very helpful, reliable and super efficient, and all our trips have gone very smoothly, without a hitch. Thank you Uli and Dolphin Hellas for your excellent service.
O. Choong, Australia
Received on Wed, 08 Jun. 2022
Excellent communications. Everything went exactly as planned and we felt very safe and comfortable before and during the trip. It was our first international trip since the pandemic and we couldn't have been in better hands! Will definitely recommend and use Dolphin Hellas again!
K. Batte - Oregon, USA
Received on Tue, 07 Jun. 2022
Excellent customer service!
D. Constas - New York, USA