Received on Tue, 10 Dec. 2019
We shopped around extensively, and Dolphin Hellas gave us the best rate for our tour. Uli was responsive to our particular concerns and helped us build a great trip.
D. Goldberg - New York, USA
Received on Fri, 22 Nov. 2019
Thank you for providing me with the assistance I needed. I appreciated the agent providing me with clear options and helping with the arrangements.
M. Laberge - Delaware, USA
Received on Wed, 20 Nov. 2019
We had a wonderful vacation and were very happy with everything that was arranged for us. All of the different parts (accommodation, ferries, transfers, etc.) came together very well. Uli responded quickly to any questions we had while we were in Greece. I would definitely use Dolphin Hellas again, and have already passed along a recommendation.
C. Nickel - Alberta, Canada
Received on Wed, 06 Nov. 2019
Hello Uli

Sorry for the delay, but we really wanted to thank you for making our vacation to Greece so memorable. We had intended to come and thank you in person, but our timing did not work out.

Having the right level of hotel in each location and having all of our transfers organized in advance (with reputable companies) was a huge bonus for us.

We still have a lot to see in Greece so we will be back at some point. We have mentioned the advantages of working with a local travel agent to a number of people. Hopefully, you will get some more business out of that.

Thank you again for all of your efforts on our behalf.

S. Mallany - Canada
Received on Tue, 22 Oct. 2019
Uli was great. She was a tremendous aide in organizing our month-long vacation. We had an idea on where we wished to go; she was able to put together a well organized and structured itinerary. She was a great help in our determination of accommodations for the trip, and booking two of them. She lined up and booked three great tours during our stay in Athens. She even booked our ferry transit from Santorini to Rhodes. Her guidance and actions were indispensable.
J. Hogle - Texas, USA
Received on Sat, 19 Oct. 2019
We would recommend your company. If the need arose we would certainly use Dolphin Hellas again.We will recommend you to our family and friends. A Special thank you to Uli. Her customer service skills were above and beyond. Thanks so much. A well organised tour.
A. Done - UK
Received on Wed, 16 Oct. 2019
Uli was absolutely wonderful! She delivered exactly what we requested. Our package of ferry tickets and vouchers came in plenty of time. We deviated from our itinerary and she made the changes we wanted right away. Everything went smoothly from the time we arrived until the time we left.
Since my return, I have recommended Dolphin Hellas to several of my colleagues.
I will most definitely use Dolphin Hellas and specifically Uli again on my next trip. It was a great experience. Thank you Uli!
R. Roche - Ontario, Canada
Received on Tue, 15 Oct. 2019
Definitely would use Dolphin Hellas again! And Uli! I'm so glad we had Uli, because she was always there for us, and took care of us when we had to stay another day on Naxos..and arranged the ferry changes for us! She went above and beyond!!
R. Edling - Washington, USA
Received on Mon, 14 Oct. 2019
I can't say enough about Uli and Dolphin Helas. It was so nice to have a local agent to help us with changes
G. Waddington, USA
Received on Fri, 06 Sep. 2019
We are happy with how Uli at Dolphin Hellas arranged everything in terms of tickets and vouchers according to our wishes. Everything arrived in time in Bergen and all bookings were okay. Communicating with Dolphin Travels through email and eventually DHL works fine! :)
H. Von Achen - Norway
Received on Mon, 26 Aug. 2019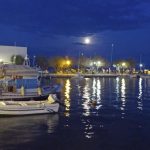 We have used Dolphin Hellas for the past 21 years and we couldn't be more pleased. Uli is fantastic, she is super efficient, very accommodating, and a joy to communicate with. In this age of making travel arrangements completely via the Internet it is still very reassuring to have such a valued resource near by when we are so far away from home.
D. Howard - Massachusetts, USA
Received on Mon, 26 Aug. 2019
Uli was amazing to work with! She made our Greece adventure a dream come true! I would recommend this group and Uli to anyone looking for an amazing time in Greece!
C. Maciolek - Colorado, USA
Received on Sat, 24 Aug. 2019
This was a special mother and daughter holiday and Dolphin Hellas made the holiday even more special because they made the travel between destinations easy and fluid. The accommodation chosen was exactly what we asked for and enabled our day trips to occur with ease. We cannot thank especially Uli as she was prompt with answering our queries and planning a holiday exactly as we asked for. I have already told many friends that if they travel to Greece to use your firm. I hope to use your services again in the near future and bring my husband this time to see your beautiful country. Thank you ever so much.
S. Walsh - Australia
Received on Wed, 21 Aug. 2019
Fantastic experience with the company and our travel agent. I highly recommend them
G. Tsigaridis - Canada
Received on Tue, 20 Aug. 2019
Uli was my savior. I planned this with her from the States and every question I had was answered within 24 hours despite our 7-hour time difference. The payment arrangements were very easy. She displayed patience. The cost was very reasonable and everything was well coordinated. Every hotel was better than the last and the first was a good quality hotel. Uli included all the things I wanted and was even available to help me with additional questions while I was on my trip. If all the staff work like Uli, this agency should be the #1 travel agency in Athens, if you aren't already. I am recommending you to all my friends and family who want to visit Greece. Thanks Uli for making my dreams a reality.
C. Durham - Pennsylvania, USA
Received on Tue, 20 Aug. 2019
From our first contact on, the agents with Dolphin Hellas provided excellent service. Great to work with Uli and her staff.
We had the unfortunate experience of a nine hour delay in the final leg of our flights to Athens. Panicking, we were able to reach a wonderful woman with Dolphin Hellas who stayed in contact with us and the Celestyal Crystal. She arranged for the ship's crew to watch for us and help us to board right up to the ship's departure from the pier. When we were informed that we would not reach Athens before departure she offered to help with lodging at an airport hotel and advised us as to how to fly to Mykonos to meet with the Celestyal Crystal. All went well and we were met the next day at the pier and rapidly made comfortable onboard. This is a great company and we hope to cruise with them again.
D. Reedstrom, Mariana Islands
Received on Thu, 01 Aug. 2019
Uli at Dophin Hellas made our trip planning so easy. This was the first time I've used a travel agent outside of the US and it was the smartest thing I did. Uli was very responsive, great attention to detail, chose our hotels perfectly and within our price range. The transportation she set up for us was always on time. She couldn't have done a better job!
R. Roberson - California, USA
Received on Mon, 29 Jul. 2019
Uli was very helpful and responsive. I would highly recommend Dolphin Hellas and trust them to do an excellent job.
S. Howard - Montana, USA
Received on Wed, 17 Jul. 2019
Uli is so wonderful to work with! Thank you for making our trip awesome!
B. Kinder – Montana, USA
Received on Fri, 12 Jul. 2019
Perfect service!
D. Michael-Melean - California, USA
Received on Fri, 12 Jul. 2019
The trip was excellent overall. Great accommodations, good to excellent breakfasts, always met in a timely fashion, great locations. Would highly recommend this travel agency.
R. Colbert - USA
Received on Fri, 12 Jul. 2019
We had a wonderful 6 days of travelling at Peloponnessos. It was like a dream trip for me and for all of us in the group.
Thanks to Eleni Kourtesi who was the person who helped us in doing all the arrangements.
Our guide Vicky, was wonderful. She was kind, considerate, very very knowledgeable, wonderful English. What could we expect more!
She was helpful to every person in the group.
Our driver, Dionysos was wonderful. He was kind, friendly, patient, and a very good driver. Our bus was very comfortable.
Hotels we all good except the one in Monemvasia. Flower of Monemvasia. Location was very good, the only problem with bathrooms I think. Almost everybody had problems with the showers on a day it was much needed. But all over it was still good.
The taverns and the menus were perfect. It was too much serving for the lunches so most people couldn't eat dinner.
You have a beautiful country. All the nature and historical places was incredible and very well protected.
Thank you again for all your help and efforts.
My only complaint would be to be able to get more refund from the last minute cancellation of a couple because of health reasons. We were able to get a refund only for museum entries.
T. Kenber - Turkey
Received on Fri, 12 Jul. 2019
Eleni who handled our account was efficient and made VERY good suggestions for our itinerary. She was patient and made the arrangements for us which made it a hassle free experience. While we may not have met face-to-face, Eleni was highly reliable and gave us many "heads-up" even while we were on tour. We never felt left alone. My family thorougly enjoyed the trip and we highly recommend Dolphin Hellas and we hope to be back soon again.
M. Singh - Singapore
Received on Thu, 11 Jul. 2019
I would definitely use Dolphin Hellas again! Uli was wonderful, very knowlegeable and accommodating. Because of bad weather, our trip was delayed by a day, making us miss some prescheduled tours and delaying our hotel reservation. Uli was able to adjust at the last minute so we could have the walking tour of Athens on a different day. He set us up for a great experience while keeping costs down. Thank you!
B. Kraus - Florida, USA
Received on Thu, 11 Jul. 2019
Uli was/is exceptional. From my first contact with her a year prior to our trip to emails during our stay, she was responsive and super helpful. She helped me find a ferry to Skiathos when i thought there was not one to be found! This was the second time using Dolphin Hellas and we we absolutely be back to solicit their help on our next greek adventure!
R. Meissner - Colorado, USA
Received on Thu, 11 Jul. 2019
Dolphin Hellas did a great job planning and arranging our itinerary. We had two minor problems along the way, and Dolphin Hellas was easy to contact by phone and quick to address our concerns.
E. Hubbard - New Jersey, USA
Received on Sun, 30 Jun. 2019
Eleni and her team were simply amazing. We had a very large group and our final itinerary involved many modifications and Eleni was so kind in her patience and expert recommendations.
Thank you to the entire team!
Sincerely,

Dr Pete Rydberg, Thiel College
Received on Wed, 26 Jun. 2019
We want to thank Uli Perschau and Dolphin Hellas for the work that was done for our 2 week trip to Greece. Our trip was wonderful and one we will never forget. All pickups, deliveries, flights, ferries and hotels went on without a hitch. Even the help we received in resolving our forgetfulness was outstanding. Dimos, our driver while on the mainland, was simply one of the best. Our island stops of Santorini and Crete were great. You have a wonderfull country with delightful people. Thanks for everything.
M. Annis - Georgia, USA
Received on Mon, 17 Jun. 2019
Working with Dolphin Hellas was a fantastic experience. The tours were amazing and the planning was so simple. I explained where we hoped to go and what we would like to see and everything was put together in a great itinerary. I never could have built a trip like this on my own or at such an amazing price point! Cannot wait until my next visit!
L. Bryan, VSU - USA
Received on Sun, 16 Jun. 2019
Overall we were extremely pleased with this tour. Driver and guides among the best we've had anywhere in the world. Efficient scheduling. Good to excellent (with one exception) accommodation. Good food. Fair Price.
We will certainly recommend Dolphin Hellas. Thank you.
S. Runyan - California, USA
Received on Fri, 14 Jun. 2019
Dolphin Hellas, Uli is whom i dealt with throughout my booking and provided prompt responses. DH is an Agent for the booking and GO Tous the company that organises the tour. However, I find no confusion throughout the communication with Dolphin Hellas and there seems to be no extra charges just because they are agent for GO Tour. On the contrary DH gave us good discount for booking early.

I have also booked our ferry tickets through DH for our visit to POROS.
S. Kok - Australia
Received on Tue, 11 Jun. 2019
Uli Perschau was very helpful and responded promptly to my many requests. Her advice was good. We would happily use Dolphin Hellas on another occasion.
A. Clark - Australia
Received on Tue, 11 Jun. 2019
Good communication with us
Delivered everything it promised.
I would recommend to my friends.
B. Bougie - Canada
Received on Tue, 11 Jun. 2019
On hindsight, we should have cut down on our stay in Mykonos and do more in Athens. Perhaps you can find out more about the Islands to provide better advice on trip planning. Nevertheless, we enjoyed our stay thoroughly and all arrangements made were seamless. Thank you very much.
P. Lam - Singapore
Received on Mon, 10 Jun. 2019
It was a very smooth and convenient process. We appreciate the care and attention to detail provided by Dolphin Hellas.
M. Vega - Nevada, USA
Received on Thu, 23 May 2019
Dear Uli,
I am writing to let you know that we all had an absolutely wonderful trip to Greece. I was a student of History and one of my favourite papers was Greek history. So it was on my list of places to visit for a while.
Thank you very much for all your help and assistance. As well for your patience with payment delays and credit card problems.
Your country and it's people are beautiful. We carry home special memories and the warmth of civilisational ties.

Thank you very much again.

Warm regards,
S. Sundararaman - India
Received on Wed, 15 May 2019
Overall very well planned and executed. All went according to plan, no hitches and I had a lovely time. Dolphin Hellas highly recommended.
C. Sunners - UK
Received on Mon, 15 Apr. 2019
Good morning!

Thank you for planning such a wonderful a trip to Greece for our family. We had an amazing time. The hotel accommodations were great. The kids loved Hotel Europa while the adults really like Napflion. Unfortunately, Ancient Olympia was closed due to striking employees, but the beekeeping experience was a ton of fun and perfect for the entire family. It rained but did not detract from the overall experience. My six year old said it was his favorite part of the trip. The caves were also really interesting for the kids. Everything from the airport pickup to drop off was exactly perfect. I wish I could thank you both in person but we're already back in Berlin. Please let me know if there is a particular review platform you like for customers to comment or rate and I'll be happy to leave a 5* review.

All the best,

T. Reiner - USA
Received on Thu, 11 Apr. 2019
Dear Eleni,
I am sorry for not having given you news sooner. I have been busy with my work and my family this days.
First of all, I want to thank you sincerely. Everything was perfect. We loved this trip. The students were delighted to discover Greece. It's a so beautiful country.The itinerary, the hotels, the welcome, everything was perfect. The arrangement was very good too. As for the driver, Dennis, we all loved him. He was extremely punctual, pleasant, accommodating and kind. He recommended great restaurants. The bus was also very comfortable and clean. You can thank again Dennis for me.
A big thank-you !
C. Crettaz - Switzerland