Dolphin Hellas represents several hotels of different categories in the town of Naplfio, many of which are long-standing establishments that have proven their worth through decades of co-operation, and all have earned their kudos from our clients' reviews.
They are hand-picked, offering value for money accommodation, standing out for their facilities and the quality of the service provided which honours the long-lasting tradition of Greek hospitality.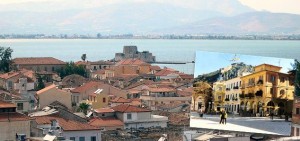 Nafplio
is one of the most charming towns in Greece, with one of the best-preserved old towns to be found anywhere. After the war of Independence against the Turks, Nafplion [...]
more on Nafplio...
Here below follows a selection of hotels in Nafplio
that you can book through our travel agency

List of Nafplio hotels
Remarks:
The contents of the table below can be sorted, by clicking on the header of each column.
You can also use a second dimension. For example, if you wish to sort primarily by category and then by area, click on "Category", hold down the "Shift" key and click on the header "Area".
| Hotel name | Category | Area | |
| --- | --- | --- | --- |
| | 4* (A Class) | In the old town of Nafplio | |
| | 4* (A Class) | Near Nafplio town | |
| | 4* (A Class) | In the old town of Nafplio | |
| | 4* (A Class) | In the old town of Nafplio | |
| | 4* (A Class) | In the old town of Nafplio | |
| | 3* (B Class) | In the old town of Nafplio | |
| | 3* (B Class) | In Nafplio | |
| | 2* (C Class) | In the old town of Nafplio | |