The cruise vessel 'Panorama' motor sailer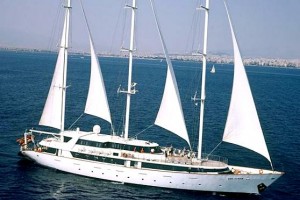 Sail Cruiser.
3 masts - 820sq.m. sails, 3 passenger decks, maximum 49 guests in 24 cabins, 16-18 crew members, lounge bar (upper deck), dining room - lounge bar area & library (main deck), sun deck with loungers & chairs, air-conditioned, audiovisual equipment in lounge, Wi-Fi, special meals programs, water sports equipment.
Flag: Greek, Length: 54m, Breadth: 12m, Draft: 5m, Cruising Speed: 11knots, Engines: Caterpillar 2 x 720B.H.P, Launched: 1993, Renovated: 2019
This state of the art sail cruiser has performed several Atlantic Ocean crossings, has sailed from the Seychelles to Monte Carlo and from the Black Sea to Tunis and offers the highest standard of accommodation, comfort and safety.
Outdoor and indoor public areas of the ship
During the day, life on board centers around the outdoor areas, the two bars and the sun deck. In the evening passengers can relax in one of the ship's two lounges or the library and have a drink while listening to the piano music.

The swimming platform on the 'Panorama' stern enables passengers to swim when weather and anchorage conditions permit.
Cabins on the 'Panorama' motor sailer
All cabins are outside ones, air-conditioned and fitted with TV, telephone for internal use, hairdryers, mini-fridge, central music, public address system and safe boxes.
The fully equipped bathrooms are finished with marble or corian materials.
Cabins may have twin or queen sized beds.
'A' category cabins have windows while the ones of categories 'B' & 'C' have portholes.
* The here presented cabins categorization may be subject to change.
Deck plans of the 'Panorama' motor sailer
Click on the images below for larger view of each deck