---


- click here for maps
and pictures of Nafplion & Argolis area -
---
Nafplia Palace Complex - Cat. Deluxe - In Nafplion
| | |
| --- | --- |
| | Nafplia Palace is the new name of the former Xenia Palace. Once owned and run by the Greek National Tourist Organization, it has now changed hands and has started to gain the lost ground in the guests' preference, which was the result of poor management and maintenance. There are 2 buildings, the main one with 48 rooms and 3 suites, and 54 bungalows. The interior of the main building has been fully renovated and refurbished. All rooms have private marble bathroom with complimentary toiletries, bathrobes and hairdryer, A/C, satellite TV, music, direct-dial phone, mini bar and balconies or verandas with a panoramic view to the sea and/or the Burgi fortress. The suites have also a separate living room area. The furnishing is very elegant and comfortable, matching to the standard of the hotel. The bungalows have the same facilities and views as the rooms in the main building but have not been totally renovated yet. The public areas of the hotel are many, very spacious and most with breathtaking views to the sea, the Old Town of Nafplion some 200m away and the Burgi fortress: a large swimming pool with deck chairs, umbrellas and a snack bar, two restaurants (main and gourmet), 2 bars, one of which is a piano bar, lobby with reception. There are also 3 conference rooms with capacities of 60 to 120 participants, parking space, and a heliport. The maid service is twice per day and there is also laundry service. |
Top - Pictures & Map of Nafplion and Argolis
---
Amfitryon Hotel - Cat. A' - In Nafplion
A luxury boutique - style hotel, began operating in March 2002 with 44 fully renovated rooms and 2 suites offering state-of-the-art technology. Located on the waterfront, it offers panoramic view to the romantic yacht harbour of the city of Nafplion and its island Bourtzi. All rooms offer panoramic sea view and have sitting area and private balcony or terrace, sound proof windows, air-conditioning/heating, remote control TV, radio & music channels, DVD possibilities, direct dial phone, optional fax, Internet access, mini bar, safe deposit box. The suites also offer cordless phone, fax machine, internet connection, big deck terrace, separate living room, big deck terrace, bathroom with separate shower cabin and steam bath. The hotel also provides elegant restaurant on the 1st floor with the most breathtaking view in Nafplio. Sitting area with fireplace and tearoom, piano bar, pool bar, coffee shop and tearoom are also services that are provided from the hotel. The outlets of the hotel have an atmosphere of sophistication and elegance, assuring a most memorable stay - the ideal place for the business or leisure traveller.
Top - Pictures & Map of Nafplion and Argolis
---
Candia House - Cat. Deluxe - In Iria
Iria is a sandy beach about 11kms from Nauplion. Right on the beach one can find the Candia House suites, a complex of 10 units. All suites have private facilities, A/C, 1 or 2 spacious bedrooms, 1 or 2 bathrooms, sitting room, mini bar, TV, direct dial phone, balcony. The units are built around the swimming pool which has Jacuzzi. Other facilities are a restaurant, bar, playroom, gym, gardens, parking, satellite TV room. Services: room service, reception desk.
Top - Pictures & Map of Nafplion and Argolis
---
Nafsimedon Hotel - A' Class - In the Old town of Nafplion
The hotel is housed in a refurbished neo-classical building in the old town of Nafplion, facing a park and the Palamidi castle. It has in total 13 rooms, 9 in the building one sees from the road and another 6 at the back in a separate building (ground floor). All 9 rooms in the main building have double beds. In some of them a third bed can be added - it can be a regular or a camping bed. There is also a quadruple with 2 double beds, one on the ground floor and one up on a loft (no privacy). The back 6 rooms have single beds, and again some take a third bed. Only two rooms have view to the park at the front (these also have a balcony but one cannot sit there). The rest look at other buildings around and at the back, and the ground floor ones look at an inner patio. The hotel is beautifully furnished with antiques - bedside tables, closets, chairs and lamps - that require careful treatment. Rooms are spacious, and so are the bathrooms (all with bathtub except for one room that has a shower). The rooms have direct dial phone, A/C, TV. Mini bars and safes will be added within the year. Complimentary toiletries are offered. Breakfast is simple continental served as a buffet in the yard at the front of the hotel. There is also a reception but guests can keep their keys throughout the day.
Top - Pictures & Map of Nafplion and Argolis
---
Amalia Hotel - A' Class - 2kms from Nafplion
The hotel is located 2kms from town, in a private area, extending over several square meters. All 175 rooms have private facilities, direct dial phone, A/C, radio. Other facilities: 3 restaurants, lounges, bar, coffee shop, TV room, gardens, swimming pool, parking space.
Top - Pictures & Map of Nafplion and Argolis
---
Ilion Hotel and suites - A' Class – In Nafplion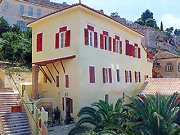 This hotel is located near the Syntagma Square, in the heart of the City. Rooms and Suites decorated with unique style, with an incomparable aristocracy that purely belongs to the air of Nafplion. The Hotel consists of 10 Suites and 5 Studios, each with its own personality. All the Suites & Studios are equipped with Air Conditioning (Cool & Heat), Mini Bar, Hydro-massage, Hair & Body Beauty Products, Satellite TV, Radio, Hairdryer and Jacuzzi. SUITE OF ADONIS: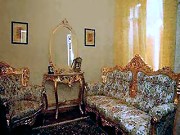 There is a sensation of a dominant calmness that surrounds the guest. Adonis Suite has an incomparable air of Nafplion's beauty and aristocratic style. Vintage collection piece furniture decorates the Room (with the screen, antiques, secretary, and a berjere). The comfortable bed with its beautifully hand crafted illustrated bedstead, represents the awakening of Adonis. There is a TV, a Mini Bar, an old style Radio and Air Conditioning. The Bathroom has a Jacuzzi, a special Hydro-Massage with Water Ejection that brings great results against cellulite; fat burning and can also relax the body. SUITE OF NIRIIDES: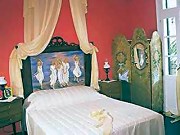 Niriides is the Suite that takes you on a nostalgic trip to the past, unique in its kind. The furniture consists of old English antiques scattered here and there in a stunning ruby colour and a Secretary with books for all tastes. The bed illustrated with the forms of the Nereid's inspired from the Greek mythology with lovely canopy of frills of an Empire style, satin sheets with an air of absolute sensation. There is a TV, Mini Bar, old style Radio and Air Conditioning available. Its unique beauty is emphasized in the Bathroom, where the Bath has a Jacuzzi. The Water Hydro-Massage circulates water to tone the body, helps cardio-relaxing and gives therapeutic sensations with amazing results. Then there is the Balcony with a View to the Garden full of old palm trees. SUITE OF RENAISSANCE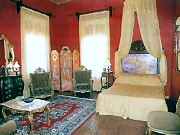 : Renaissance is a Suite comprising of an authentic renaissance atmosphere, persuading one to discover its secrets. Antique renaissance style furniture conforming to the charm of this exceptional Suite. Distinctive characteristic mirrors and period objects complete the Room. There is a TV, a Mini Bar, an old style Radio and Air Conditioning. The special handcrafted Bed is painted with a scene of a renaissance picture. The Bathroom has a Jacuzzi with Hydro-Massage that gives therapeutic sensations and relaxes the body. This Suite is a real oasis. ROOM OF PASSION: The Room of Passion is a Room with a View to the Garden decorated in a different style, with a Venetian antique touch. Old type lamps and Venetian type of furniture. Its Bed is painted with the picture of emerging maidens, - so real - that they actually give to the guests the feeling of a nostalgic magic of another era. There is Air Conditioning, TV, Mini Bar and an old style Radio available. In this Hotel you will also find Traditional Greek Breakfast, served in a peaceful Garden under the mandarin trees. The owners offer various daily delights (as pies, home made marmalade, moustokouloura, sweets and other surprises).
Top - Pictures & Map of Nafplion and Argolis
---
Acronafplia Pensions - A'/B' Class - In the Old town of Nafplion
There are 5 pensions, housed in old neo-classical buildings, under the same name, all owned and run by the same person. Three of them offer a very high standard of accommodation at very good prices. The cat. A' class rooms on Papanikolaou street have just been completed and feature the same facilities as the other A' class rooms plus verandas and/or balconies for the rooms of the second floor. This building also has an attic with 2 rooms for a family of 4.The second cat. A' building is on Vas. Konstantinou street and has the largest rooms (25-30sq.m in size), with private bathroom (shower/W.C), TV, A/C and some have also a refrigerator. There is also an apartment that consists of two bedrooms, a small kitchenette with cooking rings, refrigerator and utensils, and a bathroom (shower/W.C). The extra bed is usually a camping bed. The cat. B' rooms are smaller in size (10-15sq.m) and have also private facilities, TV, A/C (it is charged extra for a fee paid locally). A refrigerator is available for the shared use of all tenants. All of the rooms in both buildings are traditionally furnished with iron beds (most are matrimonial ones), antique style furniture, lace curtains and lamps. Some of the rooms have view to the town and only one has (limited) view to the sea.
Top - Pictures & Map of Nafplion and Argolis
---
Rex Hotel - B' Class - In the new section of Nafplion
It is located in the centre of Nafplion town, near the Harbor, the Railway and the Bus Station and the beautiful beaches. Rex Hotel is a very nice hotel and has been renovated recently. It has available 87 rooms, 42 of them suites all equipped with bathrooms, telephones, radio, T.V., Mini bar and air conditioning. The Suites can accommodate 4 persons. At the hotel rooms you will find comfort and leisure, while at the hotel restaurant, living room and snack bar areas will make you feel like being home.
Top - Pictures & Map of Nafplion and Argolis
---
Byron Hotel - C' Class - In the Old town of Nafplion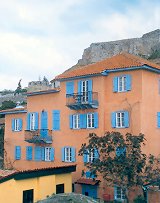 This hotel is one of the best in this charming town.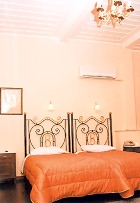 An old neo-classical building painted in pastel colours, the Byron has 2 sections: the "pink" one and the "green-yellow" one. The former has been recently renovated and now both sections have rooms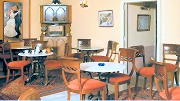 with private facilities (shower/W.C), hairdryer, central heating, air condition, mini bar, direct dial phone. Basic difference: a long flight of steps leads to the pink one but this results in marvellous views of the town and the harbour (not from all rooms). The green one is at a lower level but is deprived off the views. Only two rooms have a balcony (architectural restrictions). The pink section is also known as the old one as it pre-existed. The only disadvantage of the pink section is that the rooms are quite small. Breakfast is simple continental, served either in the breakfast room facing the reception or outside in a yard that is built at the back of a small hamam.
Top - Pictures & Map of Nafplion and Argolis
---
Elena Hotel - C' Class - In Nafplion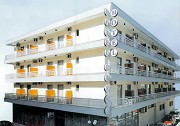 Located in the centre of Nafplion,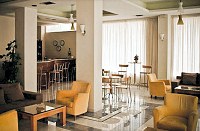 this hotel consists of 76 rooms all with private facilities, telephone and central heating. The hotel has a big reception area, comfortable public rooms, as well as a TV lounge and breakfast room.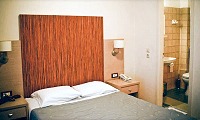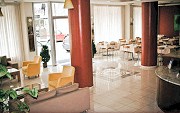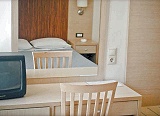 Top - Pictures & Map of Nafplion and Argolis
---
Marianna Pension - C' Class - In Nafplion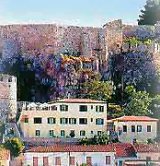 This is a small hotel, with rooms,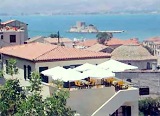 that have maintained their traditional style. All of them have private facilities, telephone, air condition, mini bar and TV as well as a view to the old city, the Argolic gulf and the Venetians castles.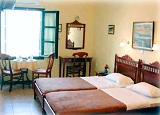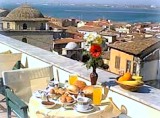 Top - Pictures & Map of Nafplion and Argolis
---
---
---
Copyright © 2001-14 Dolphin
Hellas
S.A. Travel & Tourism


Dolphin Hellas
Greek travel agency
:
16, Syngrou Avenue

-

11742

Athens

,

Attica,

Greece
| Tel:
+30-210-9227772