Accommodation (hotels, apartments, studios) on the island of Santorini:
---
Grotto Villas - Cat. C' - In Firostefani with Caldera view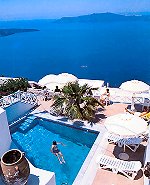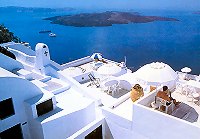 This complex of 15 houses first operated some 20 years ago, when several authentic cave houses (7 in total) were bought by their current owner, Mr. Jiannis, a Swiss who fell in love with the island and the people. Since then another 8 houses have been built in the traditional style, and now all of them overlook the splendid Caldera. He has lovingly named them after people (e.g. Mary, George e.t.a.). There are 3 types of rooms: studios for 2 persons or one-bedroom apartments with separate bedroom for 2-4 persons and two bedroom apartments with two bedrooms and two bathrooms (one with bathtub and one with shower) for 2-6 persons. Each house has a private bathroom with bathtub/W.C.,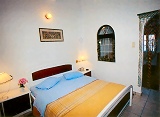 ample sitting room, fully equipped kitchen cooking rings, utensils, refrigerator and oven (not in all), direct-dial phone, self-regulated A/C (warm and cold), satellite TV, and a big private terrace or balcony with volcano and sea view. The furnishing is comfortable but funny as it mingles different styles. Cleaning and change of towels are daily, change of sheets every second day. General hotel facilities include: a reception that operates from 8:00AM till midnight, a small swimming pool with umbrellas and sun beds, a pool bar, safe deposit boxes and a room where people arriving early or leaving late can leave their luggage and get some rest or have a shower, before checking in/out. Fax facilities and e-mail service are available. Breakfast is basic continental. The complex cannot be accessed by car, and several steps need to be climbed, but it is neither a difficult nor a long walk from the town's centre.
Top - Pictures & Maps of Santorini - Request Form
---
King Thiras Hotel - Cat. C' - In Fira Town without Caldera view
This well located hotel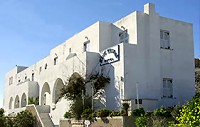 offers an economical option for those looking for a clean, safe and quiet bed & breakfast lodging close to the nightlife of Fira. Located about 400m from the centre of the town, it offers 17 rooms, all with private bathroom with shower/W.C (5 with bathtub), radio with piped music, direct dial phone, central heating, small refrigerator and private balcony with town or sea view (no volcano view).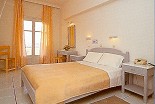 The beds are either matrimonial or single beds. In the triples the third bed is a regular one. The furnishing is modern and pleasant. The rooms are cleaned daily and the towels are changed also every day. Sheets are changed every second day. General hotel facilities include a pleasant reception area that also serves as a bar, TV lounge and breakfast room (breakfast is basic continental), safe deposit boxes (in the lobby) and a small parking space nearby. The hotel provides a 24-hour reception desk (from June to Sept.) as well as fax facilities and money exchange. The access to the hotel is easy - a short walk from the main road -, but the rooms are only accessible by long flights of steps.
Top - Pictures & Maps of Santorini - Request Form
---
At the highest top of Santorini on the cliff and at the most quiet area of Imerovigli, just 1 mile from the center of Fira, are located the Merovigla Apartments, offering a magnificent view to caldera, the volcano and all of the island.
Respecting the traditional architecture, colours and shapes are combined to create the real image of a unique island. Each apartment (35-45 sqm) offers modern facilities as television, telephone, fully equipped kitchenette and refrigerator, A/C and it is decorated traditionally, with its own balcony. The swimming pool and the pool bar are in the middle of a garden full of trees and flowers. Room service is provided daily free internet access is available.
Top - Pictures & Maps of Santorini - Request Form
---
Kalimera Hotel - Cat. C' - Located in Akrotiri
Its name means "good morning" and their owners guarantee that every day you spend there is a good one. A small, family run property that enjoys an unobstructed view both to the Caldera as well as the other side of the island. The nearest beach - a rather narrow strip of sand & pebbles - is 250m away but downhill. At 1-1,5kms distance is the famous Red Beach, where one can also find some of the best fish restaurants on the island. The village of Akrotiri is 100m away and the archaeological site is at a distance of 1km. Fira is 9kms from Akrotiri (regular bus connection - bus stop almost right outside the hotel). Built in 1994 in traditional style, the hotel is surrounded by well-cared gardens. All rooms have private bathroom (shower/W.C.), direct dial phone, A/C, hairdryer, and balcony with sea view (on either one or the other side). The furnishing is simple but pleasant and comfortable, and the rooms are cleaned every day. There are also 4 rooms with loft that can accommodate a family, with 1 double bed downstairs and 2 single beds upstairs. The hotel's general facilities include a swimming pool, pool bar, breakfast room, where continental buffet breakfast is served, reception and parking space. Lunch and dinner is prepared and served upon request, and the BBQ oven by the pool operates almost on daily basis. A TV corner (big screen satellite TV) and Internet access (from the hotel's computer) are available. Furthermore the hotel facilitates a banquet room, suitable for small conferences and lectures as well as a small shop with local handicrafts and wines.
The major advantage of the hotel are the owners, the family of Mr. Papalexis, who create a very friendly and family like atmosphere.
Top - Pictures & Maps of Santorini - Request Form
---

In Kamari, one of the most popular beaches of the island, 80m away from the sea and at a short distance from restaurants, bars and mini markets, stands the Vatos, surrounded by a well-cared garden with flowerbeds. Traditionally built in a severe Cycladic architecture, offers 30 rooms and 2 suites with private bathroom (shower/W.C), A/C (not in all rooms, charged extra this year), direct dial phone, radio and balcony or patio with view to the garden, the pool or the fields.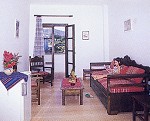 Most rooms have single beds. The third bed is a regular one. The suites have one separate bedroom and a living room with two sofa beds (for a family with children). One of the suites has a bathtub, and both have a refrigerator. Cleaning is daily, sheets and towels are changed every 2 days. General facilities: reception, swimming pool, breakfast room where standard continental breakfast is served, living room with TV, safes, bar in the lounge and parking space nearby. Services: reception (8:00AM to 10:00PM). The hotel can be accessed by car, and some of the ground floor rooms have only a few steps.
Top - Pictures & Maps of Santorini - Request Form
---
---
Accommodation (hotels, apartments, studios) on the island of Santorini:
---
Copyright © 2001-14 Dolphin
Hellas
S.A. Travel & Tourism


Dolphin Hellas
Greek travel agency
:
16, Syngrou Avenue

-

11742

Athens

,

Attica,

Greece
| Tel:
+30-210-9227772