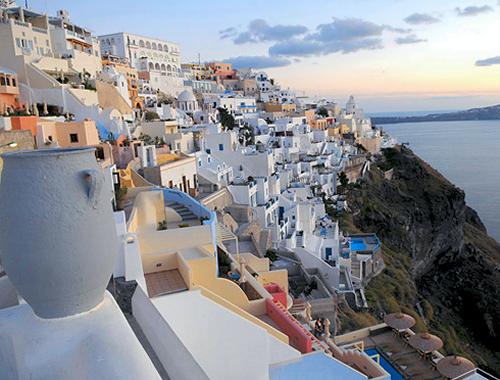 3* (B Class) / Fira
Description of the accommodation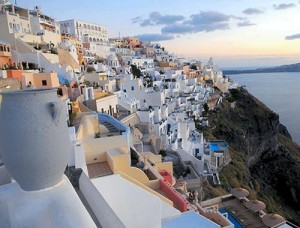 Loucas hotel is located right in the centre of Fira town, the capital of Santorini (Thira), about 15 steps off the main cobbled stone path.
It consists of 25 rooms, all with view to the volcano and the sea. All units have private facilities (small tub or shower/WC), A/C, safe deposit box, mini fridge, telephone and balcony with view (in most cases the balcony is shared, not private).
There are three categories of rooms: standard, superior and suites.
The standard rooms have rather old furnishing, a bit old fashioned but still have all other amenities and are very well priced.
Apart from the standard rooms, there are 3 rooms with a double bed on a loft and an extra bed in the sitting area (sofa bed), which are the superior rooms.
There are also a few suites, very nicely furnished, with beautiful bathrooms, which however do not have private verandas.
The general facilities include reception and a small swimming pool with panoramic view to the volcano. Breakfast is buffet continental and is served on a terrace with volcano view. The same area operates as a bar later in the day.
The owner also has a restaurant just next door, again with volcano view.
Important: the rooms are built at different levels, so some rooms are almost 70 steps down from the main path.
Location on the map of Santorini