IMPORTANT: This page is no longer maintained and the information contained is no longer valid.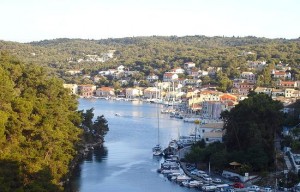 Paxi (or Paxos)
, the smallest of the Ionian islands, lies 10 miles south of Corfu. The island resembles one vast garden thickly covered with olives planted by the Venetians over three hundred years ago, tall pine trees and an abundance of wild flowers. The vegetation descends to over 30 sheltered pebbly beaches on the east coast and the dramatic cliffs of the west coast. The sea has an enchanting turquoise color and, thanks to the depth and rocky seabed, the water is crystal clear and clean, never turning murky, offering excellent visibility for snorkelling and scuba diving. There are 3 main villages, Gaios (the main port) [...]
Further information on Paxi (Paxos) & Antipaxi (Antipaxos) islands...
List of vacation properties in Paxi & Antipaxi
- Minimum 1 week rental, from Monday to Monday (May - October) -