Paxi (Paxos) & Antipaxi (Antipaxos) islands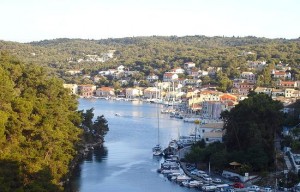 Paxi (or Paxos), the smallest of the Ionian islands, lies 10 miles south of Corfu.
The island resembles one vast garden thickly covered with olives planted by the Venetians over three hundred years ago, tall pine trees and an abundance of wild flowers. The vegetation descends to over 30 sheltered pebbly beaches on the east coast and the dramatic cliffs of the west coast. The sea has an enchanting turquoise color and, thanks to the depth and rocky seabed, the water is crystal clear and clean, never turning murky, offering excellent visibility for snorkelling and scuba diving.
There are 3 main villages, Gaios (the main port) & Longos facing to the east and Lakka at the northern tip of the island. The architecture is distinctively Ionian and the overall atmosphere is particularly charming with a delightful contrast of colours: whitewashed walls, pastel coloured shutters, multi-coloured café bar sun umbrellas, crimson and purple bougainvillea, passion flower vines, oleander trees, potted plants on Venetian balconies and shop displays of fresh fruit.
Antipaxi (or Antipaxos), the little island just one mile off the south tip of Paxoi, has only 30 permanent inhabitants and two of the loveliest sandy beaches in the Mediterranean, Vrika and Voutoumi, which are comparable to beaches found in the Caribbean. The island is equally verdant, with cypresses, cedars, myrtles, pine trees and low bushes. Unlike Paxoi, the prime cultivation is grapes, and the local produce gives a dark and sweet wine which is very popular and hard to find due to the limited quantity.
Both islands are ideal for exploration, either by boat (small dingies are available for rent) or on foot. The south and west coasts are doted with grottoes, littoral caves, and tiny unpopulated islands whereas on the land one can visit uninhabited villages, ancient fortresses, monasteries and lighthouses. Paxi have a frequent connection with the mainland village of Parga, another truly picturesque location, from where one can be taken up the ancient River Styx (gate to the underworld in the Greek mythology) by a local boatman.