Argolis tour (Mycenae-Epidaurus-Nafplion)
Discounted price:
EUR 93,40 without lunch & EUR 104,00 with lunch
Full day tour

Nov.2016-Mar.2017:

Tue. Thu. Sat.

Apr.2017-Oct.2017:

Mon. Tue. Wed. Thu. Sat.
Tour map
Tour program
Departure from Athens: 8:30 am
Return in Athens: 7:15 pm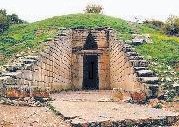 Highlights: Leave by the coastal road along the Saronic Gulf to the Corinth Canal, which connects the Aegean Sea with the Ionian Sea, (short stop). Drive to Mycenae, the Homeric city of Atrides, the city "rich in gold" of the ancient poets. Visit the Lion's Gate, the Cyclopean Walls, and the Royal Tombs e.t.c. Depart for Nafplion through the fertile plain of Argolis, the picturesque town nestling at the foot of a cliff crowned by the mighty ramparts of the Palamidi Fortress (short photo stop), leave for Epidavros, to visit the Theatre (4th century B.C.) famous for its astonishing acoustics. Return to Athens by the National road connecting Epidauros with Corinth. Lunch in Mycenae.
---
---