Argolis tour (Mycenae-Epidaurus-Nafplion)
Price:
EUR 100,00

without lunch &

EUR 114,00

with lunch
Full day tour

Nov.2020-Mar.2021:

N/A

Apr.2021-Oct.2021:

Mon. Tue. Wed. Thu. Sat.
Available on

Wednesdays starting from May5


and on

Mondays from Jun.21
Tour map
Tour program
Departure from Athens: 8:30 am
Return in Athens: 7:15 pm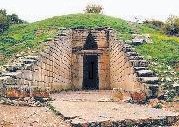 Highlights: The tour places emphasis on two sites: Mycenae, the kingdom of the doomed family of the Atrides, and Epidaurus, this astonishing theatre (4th century B.C.) of 15000 seats, the acoustics of which no modern theatre has managed to replicate. On the way, a short stop is made at the Corinthian Canal; the lunch break takes place in Mycenae and there's also a short stop made at Nafplion for a visit.
With a total of 7 customer reviews,
the "Argolis tour (Mycenae-Epidaurus-Nafplion)"
is rated 4.33 out of 5,
based on 6 customer ratings.