Price:
EUR 152,00

in B' class hotels |

EUR 177,00

in A' class hotels
2 days tour

Nov.2022-Mar.2023:

N/A

Apr.2023-Oct.2023:

Mon. Tue. Wed. Thu. Fri. Sat. Sun.
Tour program
Departure from Athens: 8:30 am
Return in Athens: 7:00 pm on the second day
Highlights:
1st day: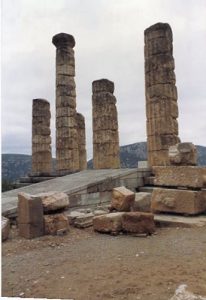 Driving through the fertile plain of Beotia, crossing the towns of Thebes, Levadia and Arachova, we arrive in Delphi, the center of the Ancient World. On the slopes of Mount Parnassus, in a landscape of unparalleled beauty and majesty, lie the ruins of the Sanctuary of Apollo Pythios. Visit the Treasury of the Athenians, the Temple of Apollo and the Museum containing such masterpieces of Ancient Greek sculpture as the bronze Charioteer.  Afternoon free. Dinner. Overnight.
2nd day: The whole morning is free for you to see more of the ragged grandeur of Delphi and take photographs to remind you of its beauty. After lunch, departure to Athens. On the way back a short stop is made at the village of Arachova, a very pretty village on the slopes of the mountain.