IMPORTANT: This page is no longer maintained and the information contained is no longer valid.
The Villa Andromeda in Paxi
Near Longos area, on Paxi island, Greece




Description of the property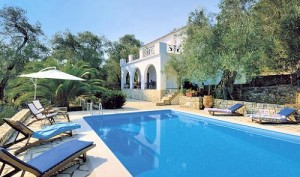 Within a small, hillside hamlet, Villa Andromeda is set back from the inland road leading to Longos, which is a distance of 1,5 km.
A garden of olive and fruit trees and flagstoned terraces surround the private swimming pool and offer a variety of areas to relax in both sun and shade.
Car rental is recommended in order to combine the enjoyment of Andromeda's secluded location with easy access to the shops and tavernas in the small villages and to the many beaches. Longos (small fishing village with several tavernas, groceries and waterfront café bars) and nearby beaches are only 5 minutes away by car; one taverna is at about 5 minutes walk. The small village of Fontana with 2 tavernas and a minimarket is a walk of fifteen minutes, a pleasant evening stroll past olive groves and a few village houses.
The property has large rooms furnished in cool, ceramic and marble floor tiles. From the second floor bedroom balconies one overlooks the surrounding olive groves and the open sea towards the Greek mainland.
Accommodation/Facilities of the villa:
Ground floor: two twin-bedded rooms | Bathroom with shower | A beautiful sitting room with comfortable furniture leading to a series of terraces bordered by olive trees and steps down to garden and swimming pool | Large kitchen.
Marble staircase leading up to the first floor: one double bedroom with en suite bathroom and shower | One twin-bedded room | Bathroom with shower.
Air-conditioning in upstairs bedrooms and ground floor sitting room | TV | DVD & CD player | Wi-Fi | Barbecue area.
The dimensions of the pool are 10 x 7,5 metres and has a depth of 1 – 2,4 metres.
Location on the Paxi map
- Minimum 1 week rental, from Monday to Monday (May - October) -
---
---