IMPORTANT: This page is no longer maintained and the information contained is no longer valid.
The Shu-Shu Villa in Paxi
Near Magazia area, on Paxi island, Greece




Description of the property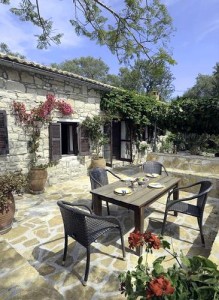 From a traditional island country house, Shu-Shu has been converted to a charming and comfortable home. The house is set in a private and peaceful, walled garden of fruit and nut trees amongst the olive groves which border the small village of Magazia in the centre of the island.
Spacious rooms with raftered ceilings share a combination of polished stone floors and soft, white fabrics. A wide, first floor terrace has a delightful dining area, shaded by crimson bougainvillaea, with views over the surrounding olive groves. An intimate pool area with a gentle waterfall cascading over rocks from an upper garden terrace of date palms, oleander and orange and lemon trees.
Shu-Shu's location is private and peaceful. Car rental is suggested for ease of access to shops, restaurants and beaches which can be found at Gaios, Loggos or Lakka, all a drive of ten minutes. The nearby village of Magazia has a general store, bakery, a friendly café bar, one taverna and a blacksmith.
We feel that Shu-Shu is one of the most enchanting and comfortable retreats on the island and is ideal for couples who seek total seclusion.
Accommodation/Facilities of the villa:
One bedroom with antique brass double bed | Large open-plan sitting room and dining area with ballustraded gallery containing a sitting area | Modern and well-equipped kitchen | Bathroom with shower.
From front verandah, steps down to studio bedroom with two single beds, en suite bathroom with shower and private terrace.
Air-conditioning in both bedrooms | TV | DVD & CD player.
The dimensions of the private pool are 7 x 4 metres and its depth is 1,2-1,7 metres.
Location on the Paxi map
- Minimum 1 week rental, from Monday to Monday (May - October) -
---
---