IMPORTANT: This page is no longer maintained and the information contained is no longer valid.
The Phoenica House in Antipaxi
On Antipaxi island, Greece



Description of the property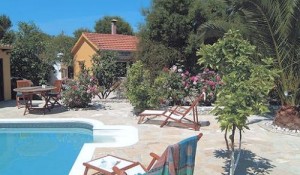 Phoenica House is tucked away in the interior of Antipaxi but just a short distance from beaches. The house was one of the first to be built on the island and the family owners have now added modern comforts to the original, simple home.
The attractive, terraced garden of mulberry, almond and lemon trees, partly shaded by a pergola of grapevine, has a raised sitting area with views to the sea and enjoys total privacy and tranquillity.
A walk of 10 minutes from Phoenica takes one to the Bella Vista taverna. A walk down a pathway, from Phoenica to the sandy beach of Voutoumi, takes 15 minutes. Phoenica House will provide a comfortable escape for those seeking privacy and seclusion.
Accommodation/Facilities of the villa:
Open-plan sitting room, dining area and kitchen | One double bedroom | One bedroom with bunk-beds and one single bed | Bathroom with shower.
Air-conditioning in bedroom | Satellite TV | DVD & CD player | Local mobile phone | Barbecue area.
The dimensions of the pool are 7 x 4 metres and its depth is 1,1 metre.
Location on the Paxi map
- Minimum 1 week rental, from Monday to Monday (May - October) -
---
---