IMPORTANT: This page is no longer maintained and the information contained is no longer valid.
The Harbour View House in Paxi
At Longos area, on Paxi island, Greece


Description of the property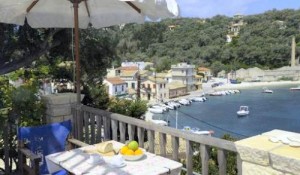 Harbour View enjoys a special position in Longos being detached from the waterfront to ensure privacy but close enough to have wonderful views over the entire port.
Set back on one of a series of hillside terraces of olive groves, the house has sitting out terraces on different levels, in the shade of olive trees, all with views over Longos. A flight of 35 steps leads from the waterfront to a lower terrace with a further 5 steps to the front door.
Waterfront tavernas, shops and café bars are just a 2 minutes walk away. Levrechio beach is just a 5 minute stroll away.
No other house, close to the waterfront, has grounds the size of Harbour View, which are terraced with attractive pots and lemon trees.
Harbour View is not recommended for those with mobility problems or for small children.
Accommodation/Facilities of the rental house:
Ground floor: Open-plan sitting room and kitchen area | Bathroom with shower.
First floor: One double bedroom | One twin bedroom | Bathroom with shower.
Air-conditioning in both bedrooms.
Location on the Paxi map
- Minimum 1 week rental, from Monday to Monday (May - October) -
---
---