IMPORTANT: This page is no longer maintained and the information contained is no longer valid.
The Zaira Villa in Corfu
Near Chalikounas beach area, on Corfu island, Greece





Description of the property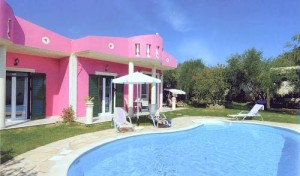 Villa Zaira is about 800m away from Chalikounas beach. Set in mature walled gardens in an olive grove , the villa has total privacy. Comfortably furnished, Zaira has modern facilities, large grounds and its close proximity to the sea make it a perfect property for family holidays.
On Corfu's south west coast the long stretch of Chalikounas' sandy beach protects Lake Korission from the sea. The lake is Natura 2000 haven for over one hundred species of birdlife including great white egrets, oyster catchers and curlews. A small wooden bridge crosses the point where the lake flows into the sea and leads to a forest of cedar and juniper trees and then to Agios Georgios beach. Chalikounas beach has soft sand dunes, safe shallow swimming, no beachfront building and few visitors. Corfu's west coast is renowned for its surf, making Chalikounas a favourite for kite surfers. The lake is bordered by hillsides of olive groves, citrus orchards and vineyards and looks up to the monastery on top of Mount Agios Mattheos.
Car hire is recommended: nearby Agios Georgios beach offers a good selection of tavernas, bars and watersports. The sandy beach of Alonaki is a 5 minute drive. The old, sleepy village of Agios Mattheos, also a 5 minute drive away, has a selection of tavernas, a bakery and a supermarket. The 13th century Byzantine castle of Gardiki is 2kms away.
Accommodation/Facilities of the villa:
Open-plan sitting room, dining and kitchen area | One double bedroom and en suite bathroom with shower | One twin bedroom | One childrens' twin bedroom | Bathroom with bath and shower.
Air-conditioning | Satellite TV | DVD & CD player | Wi-Fi | Dishwasher | Washing machine | Barbecue.
The dimensions of the private swimming pool are 8,5 x 5 metres and it has a depth of 1,2-1,8 metre. The small children's pool is 0,50 metre deep.
Location on the Corfu map
- Minimum 1 week rental, from Monday to Monday (May - October) -
---
---