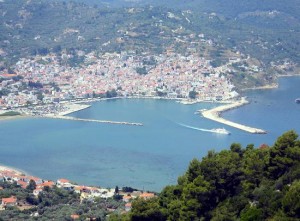 Skopelos is the largest of the Sporades islands and lies between Skiathos and Alonissos. Reached by hydrofoil from Skiathos, stepping onto Skopelos it feels like you have shed a life of hassle and manufactured entertainment, and entered a world of simple, timeless pleasures: translucent waters, cerulean skies, star-filled nights, good food and wine in friendly company.
A drive or walk through the pine forested interior will take one to forested valleys akin to a Norwegian landscape, hidden springs which feed fruit and nut groves, hillsides of umbrella pines hiding small churches and white-washed monasteries (there are over 360 churches on the island, many of which date from the Byzantine era), dramatic vantage points, uncharted tracks which lead to the forgotten remains of deserted villages.
To relax in between explorations of the island's history and geography, the attractive villages of Agnondas, Panormos and Glossa provide peaceful resting points to sample local delicacies of food and drink.
The coastline, best explored by private boat, contains small, deserted beaches flanked by rock and pine trees.
Relaxed and unpretentious, green and hilly Skopelos has spotlessly clean pebbled beaches and a laid-back, generous atmosphere.