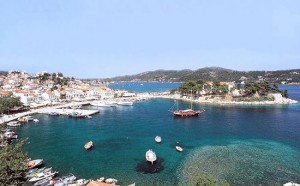 Skiathos is the smallest of the Sporades group of islands, about 12kms long and 6kms wide on average.
Skiathos Town is the only town on the island and most of the island's population of about 6000 live here. A busy high street of shops and bars opens out onto a waterfront which flanks two sides of the town. The old town of Skiathos, on the hilltop above the harbour, only dates back to 1830 when the islanders felt safe against pirates to move their capital from the secluded northern cliff tops to its present location. The old town, with its cobblestone streets, whitewashed houses and churches and planted courtyards, offers a peaceful sense of detachment.
A drive to the interior of Skiathos allows one to find small hamlets hidden amongst pine forests and ornate churches.
Skiathos will appeal to those who want sandy beaches. Small caïques depart every morning from the harbour of Skiathos Town for the more popular beaches. If you hire your own boat with outboard engine, however, you will have a private choice of deserted beaches even in the busiest months of July and August.
The northern coastline remains virtually untouched; a visit to the northern beaches, below beautiful valleys of pines, by private boat will reward the more adventurous with clear waters and privacy. Alternatively, the tiny island of Tsougria off the southern coast can be reached by caïque in fifteen minutes from Skiathos harbour and offers a selection of sandy beaches.