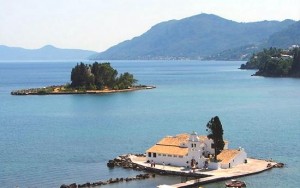 There are many faces to the island of Corfu: in some parts the coastal resorts provide well organised holiday activities for all visitors, while in other parts, Corfu retains a sense of cultural and environmental pride. Deep green valleys of olive terraces and tall cypress trees enclose small hamlets of pastel coloured houses, whitewashed churches, simple tavernas with rickety chairs under grapevine, farmland and groves of orange, fig and wild pear. Beaches, large and small, of sand or pebble indent the coastlines and offer safe swimming in clear waters. Lake Korission, a Natura region on the south west coast, provides a haven for birdlife. Corfu is still one of the most beautiful islands in Greece.
Corfu Old Town is a delightful maze of 18th century with cobbled shopping streets and hidden squares behind tall Venetian houses of flaking pastel plaster.  The town has preserved the fine architecture of Venetian, French and English occupation; a stroll through the maze of narrow streets will enamour both the historian and the romantic sightseer. A 16th century fortress looks out over the port towards the Greek mainland and down to the old town of Corfu.
The island's undulating interior contains a contrast of rich valleys, small villages atop distant knolls and a wealth of interesting walks. Overlooked by the summit of Mount Pandokrator, the glorious "Emerald Isle" lies before you, a multi-faceted jewel of cypress trees and pine, pastel-coloured houses, olive groves, lemon trees and oranges, encircled by an azure sea.
Corfu offers varied nightlife and cuisine, boat hire to find secluded beaches, watersports, an excellent 18 hole golf course and an opportunity to explore an island of diverse beauty.