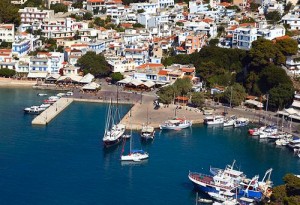 The island of Alonnisos is 20kms long and 4,5kms wide and her hillsides are covered in thick pine forests and olive groves.
Immediately opposite the east coast of Alonnisos is the island of Peristera (a small island carpeted with wild olive trees and indented by small bays) which is home to a few shepherds.
A short trip by caïque to the north are the three small islands of Kyra Panagia, Gioura, and Piperi which form the Northern Sporades National Marine Park, which was founded in 1992 for the protection of the monk seal and several rare species of bird. The seas in the area are rich in marine life and if you are lucky, dolphins will accompany you on your trip. All the islands are uninhabited except for colonies of wild goats. Gioura possesses a spectacular cave which is believed to have been the home of the Cyclop.
The port of Patitiri is a colourful jostle of large and small caïques supplying the island and the mainland with a rich assortment of fish.
Taking a private boat from Patitiri and travelling along the south-eastern coastline, one passes the small fishing village of Votsi, secluded coves backed by wooded hillsides, the sheltered harbour of Steni Vala with its sleepy, waterfront tavernas specialising in rich soups of scorpion fish and mullet, the seaside hamlet of Kalamakia and a further stretch of secluded beaches culminating in a cluster of deep sea caves studded by stalactites.
Alonissos is an island of diversity: a rich green interior of pine forest and olive grove; the varied shades of blue Aegean Sea; small, secluded beaches and deep sea-caves carved out of steep cliff faces; the port of Patitiri, busy with its fleet of fishing boats and visiting yachts; the unhurried atmosphere of the old town.