Price:
EUR 50,00

(afternoon tour) &

EUR 58,00

(sunset tour)
Half day tour

Nov.2020-Mar.2021:

N/A

Apr.2021-Oct.2021:

Mon. Tue. Wed. Thu. Fri. Sat. Sun.
Afternoon tour: Mon. |

Tue. from May3

| Wed. | Thu.

from May5

| Fri. | Sat. | Sun.
Evening Sunset tour:

from May7 until Sept.28

every Tue., Fri., Sat.
Tour map
Tour program
Departure from Athens: at 2:00pm for the afternoon tour and between 6pm-7pm for the sunset tour
Return in Athens: the afternoon tour returns at approx. 7:00pm and the sunset tour around 9:30pm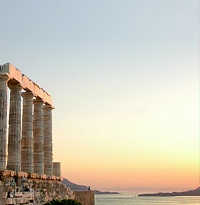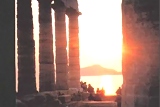 Highlights: The tour's focal point is the Temple of Poseidon (5th century B.C.) at the edge of cape Sounio. The bus follows the coastal road to Sounion and passes through some of the best suburbs in Athens (Glyfada, Vouliagmeni, Varkiza). The Temple of Poseidon has one of the most breathtaking panoramic views in the world (on a clear day you can see at least seven islands). The precipice is a sheer 197 foot drop to the sea.
If you take the evening departure from Athens, you will have the opportunity to admire one of the most amazing sunsets.
With a total of 7 customer reviews,
the "Cape Sounion tour"
is rated 4.33 out of 5,
based on 6 customer ratings.