Nov.2020-Mar.2021:

N/A

Apr.2021-Oct.2021:

Mon. Wed. Fri. Sat.


Available from Jun.21
Tour map
Tour program
Departure from Athens: 8:30 pm
Return in Athens: approx. midnight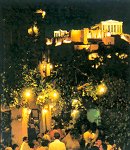 Highlights: The tour starts with a visit to the main Greek port of Piraeus, passing by the most important points of the city such as the City Hall and the picturesque yacht's harbour of Microlimano.
Following the principal avenues and passing by the Temple of Olympian Zeus, National Garden, Parliament, Tomb of the Unknown Soldier, Catholic Cathedral, Academy, University, National Library, Old Parliament we arrive at Plaka. Short pleasant walk through the old unique Athens city to one of the popular taverns for dinner with live bouzouki music and Greek folk dances.
With a total of 2 customer reviews,
the "Athens by Night tour"
is rated 2 out of 5,
based on 1 customer ratings.