IMPORTANT
:
This page is no longer maintained and the information contained is no longer valid.
For updated information please refer to the tours main page.
Athens City Sightseeing Tour
Discounted price:
EUR 51,60
Half day tour

Nov.2016-Mar.2017:

Mon.

Apr.2017-Oct.2017:

N/A
Tour map
Tour program
Departure from Athens: 8:30 am
Return in Athens: 12:00 pm
Highlights: Before reaching the Acropolis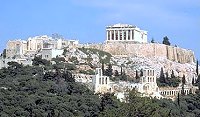 (visit), the bus passes by most major sights, monuments and museums in Athens including the Hadrian's Arch, the Temple of Olympian Zeus, St. Paul's Church, the Zappeion Gardens, the Parliament and the Tomb of the Unknown Soldier on Syntagma Square, the Catholic Cathedral, the University, the Academy, the National Library and many other. A visit to the Panathinaikon Stadium, where the first contemporary Olympic Games took place in 1896 is also included.
---
---