Ancient Corinth and Daphni monastery tour
Half day tour

Nov.2022-Mar.2023:

N/A

Apr.2023-Oct.2023:

Mon. Fri.


Avaialble from April 24 onwards
Tour program
Departure from Athens: 8:00 am
Return in Athens: 2:00 pm
Our first stop will be the Monastery of Daphni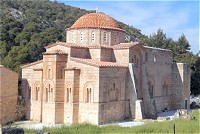 , an 11th century Byzantine monastery listed as a World Heritage site. The interior of the church is decorated with superb mosaics, a unique, fine example of the classical idealism of Middle Byzantine art. The crowded scenes of the mosaics narrate scenes from the life of Christ and the Virgin.
Driving along the coastal road, we reach the Corinth canal, which merges the Aegean with the Ionian Sea (short stop for photos of the breathtaking view). Shortly thereafter we reach the ancient town of Corinth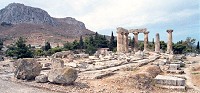 , where St. Paul lived and preached for two years. Visit the ruins of the ancient city where Paul worked with Aquila and Priscilla, see the remains of the 1st century shops, the Agora where Paul's trial by Gallio took place, the Fountain of Peirene and one of the most outstanding monuments of pre-Roman period, the temple of Apollo.
With a total of 2 customer reviews,
the "Ancient Corinth and Daphni monastery tour"
is rated 4.5 out of 5,
based on 2 customer ratings.