IMPORTANT
:
This page is no longer maintained and the information contained is no longer valid.
For updated information please refer to the tours main page.
2 days tour

Nov.2020-Mar.2021:

N/A

Apr.2021-Oct.2021:

N/A
Tour map
Tour program
Departure from Athens: 8:30 am
Return in Athens: 7:00 pm on the second day
1st day: After a short stop at the Corinth Canal, drive to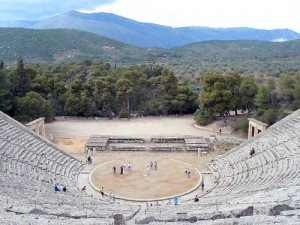 Epidavros and visit the ancient theatre. The UNESCO world heritage listed monument is reputed to be the birthplace of Asklepios, the healer, and was the most celebrated healing center of the classical world. Epidaurus is probably most famous for its theatre, one of the best preserved classical Greek buildings and still used today due to its amazing acoustics. Proceed to Nafplion (short stop) and through the plain of Argos arrive to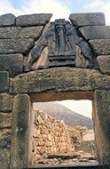 Mycenae. Visit the archaeological site and the Tomb of Agamemnon. In the afternoon depart for Olympia, the birth place of the Olympic Games, passing by the cities of Tripolis and Megalopolis. Overnight stay in Olympia.
2nd day: Visit the archaeological site of Olympia

with the Temple of Zeus, the Temple of Hera, the altar of the Olympic flame, the Stadium and the archaeological Museum with unique artifacts and the famous statue "Hermes" of Praxiteles and many other. Drive via Patras and arrive back to Athens in the late afternoon.