Dolphin Hellas represents several hotels of different categories in the area of Meteora, more specifically in Kalamabaka and Kastraki, many of which are long-standing establishments that have proven their worth through decades of co-operation, and all have earned their kudos from our clients' reviews.
They are hand-picked, offering value for money accommodation, standing out for their facilities and the quality of the service provided which honours the long-lasting tradition of Greek hospitality.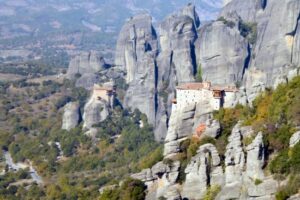 Meteora
is a chain of awesome rocks, on top of which 24 monasteries, the oldest one dating from 1150A.D, have been built. Only 6 of the monasteries are still inhabited, and each one...
more on Meteora
Here below follows a selection of hotels in Meteora area
that you can book through our travel agency

List of Meteora area hotels
| Hotel name | Category | Area | |
| --- | --- | --- | --- |
| | 3* (B Class) | In Kastraki | |
| | 3* (B Class) | In Kalambaka | |
| | 2* (C Class) | In Kastraki | |
| | 4* (A Class) | Close to Kalambaka | |