A tribute to Domna Samiou
July 2012:
08
Athens - Herod Atticus Odeon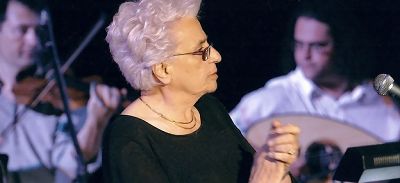 Director: Giorgos Skevas
Artistic oversight: Giorgos Papadakis
Featuring: Eleftheria Arvanitaki, Dimitris Basis, Vangelis Dimoudis, Zacharias Karounis, Antonis Kyritsis, Manolis Mitsias, Katerina Papadopoulou, Dionysis Savvopoulos, Savvas Siatras, Foteini Velesioti, Ilias Yfantidis and The Choir of the Domna Samiou Greek Folk Music Association.
Domna Samiou was a truly unique figure in Greek folk music. As a singer, researcher, collector and creator of a hugely significant archive, a teacher of new generations of singers and a producer of LPs and CDs, radio and TV broadcasts, she dedicated her life and her passion to the struggle to preserve tradition. The Athens Festival will, in turn, be dedicating this evening to the memory of an exceptional woman who tirelessly quested for the mystic essence of traditional song.