Socrates Now | Σωκράτης Τώρα
July 2012:
01, 02, 03, 04, 06, 07


June 2012:

24, 25, 26, 27, 28, 29, 30




Athens University Museum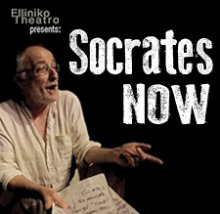 After over 250 performances in 14 countries, one of the most pertinent Ancient Greek texts, The Apology of Socrates, comes to life under the Acropolis in English.
The Apology of Socrates is a 80 minute solo performance which captures the essence of Socratic ethics in an accessible and engaging manner, a unique "edutainment" experience for international audiences and visitors of Athens.
Actor: Emmy Award Winner Yannis Simonides
Director: Broadway Veteran Loukas N. Skipitaris
Costume: Oscar and Tony Award Winner: Theoni Vahliotes Aldredge
Production: Elliniko Theatro
With immediacy and humor, Plato's timeless classic offers a unique multilayered cultural experience and political challenge to foreign visitors of Athens, right next to the original site of Socrates' historic trial.
Take a seat in the court of ancient Athens as Socrates goes on trial for his life. Hear the philosopher face his accusers with his trademark wit, cutting logic, and the courage of his ideals. Consider his arguments on virtue, justice, politics, corruption, civic duty, love of life and hope in death, and draw your own judgment. Enjoy the post-performance opportunity to discuss with the actor the ramifications of your verdict.
Think. Question. Change.
The event will be held at the Museum of the University of Athens (open-air yard)
in Plaka, at about 5-10 minutes walking distance from the Monastiraki metro station.