Musical Gastronomy: Rossini Gala
2013 April

03



Athens - Megaron concert hall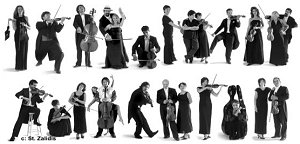 The Musical Gastronomy season is a series of three concerts at which leading Greek chefs will produce original menus inspired by the evening's music.
At this third concert, the Friends of Music Orchestra will culminate in an evening featuring the superb music of Rossini -great composer, famous gastronome– and a menu designed by chef Jean Louis Capsalas.
Conductor: Alexandros Myrat
Soprano: Mina Polychronou, Mezzo-soprano: Artemis Bogri, Tenor: Antonis Koroneos, Baritone: Haris Andrianos
Excerpts from the operas by Gioachino Rossini: La scala di seta, Il barbiere di Siviglia, Tancredi, La Cenerentola.