JAZZ & ΤΖΑΖ 20 years celebration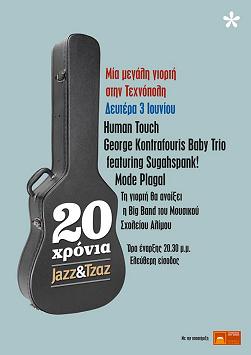 The music magazine "JAZZ & ΤΖΑΖ" celebrates its 20 years at Technopolis Gazi with a big concert featuring some of the most famous Greek jazz bands and artists.
Lineup:
– Human Touch (David Lynch, Stavros Lantsias, Yiotis Ciourtsoglou),
– Yiorgos Contrafouris Baby Trio featuring Yeorgia Calafati (Sugahspank),
– Mode Plagal.
Free entrance.