Aristophanes, Ecclesiazusae
July 2012:
27, 28
Epidaurus - Ancient Theatre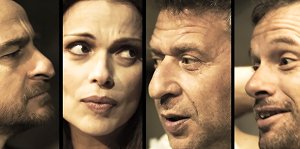 Director: Vangelis Theodoropoulos
Adapted by: Vasilis Mavrogeorgiou
Music: Thanos Mikroutsikos
Set-Costumes:Angelos Mentis
Choreography: Angeliki Stellatou
With:
Daphne Lambrogianni (Praxagora), Kostas Koklas (Blepyrus), Giorgos Pyrpasopoulos (A young man), Pantelis Dentakis (Chremes), Nikos Kardonis (First man), Stratos Christou (Second man), Georgia Georgoni (A girl)
and a 12-member female Chorus.
In this contemporary reading directed by Vangelis Theodoropoulos, the Neos Kosmos Theater explores the issue of women's rule and revels in the theater inherent in the exchanging of gender roles.
If Aristophanes were alive today, would he still hand over the affairs of state to its women, as he once proposed, in 392 BC, when his city, Athens, was defeated and in decline?