Athens Technopolis Jazz Festival
2013 May

31


2013 June

01

, 02



Athens - Technopolis Gazi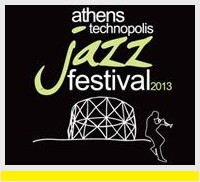 Lineup: City of Athens Big Band, Laurent Filipe "Ar Trio" (Portugal), Serrano & Lechner (Spain), Contemporary Noise Sextet (Poland), Yorgos Krommydas Modern Jazz Quintet (Greece), Roman Gomez Trio (Argentina), Shai Maestro feat. Petros Klampanis (Israel), Michaela Rabitsch & Robert Pawlik (Austria), Ramon Valle Trio (The Netherlands).
After 12 successful consecutive years, the European Technopolis Jazz Festival opens its doors to the rest of the world and becomes the international "Athens Technopolis Jazz Festival", hosting jazz musicians and groups from all over the planet.
From Friday May 31 to Sunday June 2, jazz groups from 11 countries will play their music in Technopolis Gazi. The festival will feature the most representative groups and ensembles in jazz, all well established worldwide, with great international presence, which will perform a wide range of music genres.
Free entrance.