Greek Festival: Aristophanes Now – The duty of comedy
2013 July

05

, 06



Ancient Epidaurus Little Theatre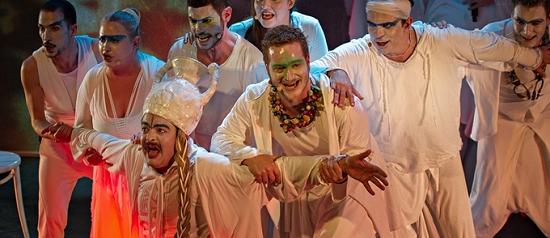 Stamatis Kraounakis & Speira Speira in a dramatised musical performance based on Aristophanes' comedies.
Lyrics: Κ.X. Myris, Lina Nikolakopoulou, Stamatis Kraounakis
Coaching: Stamatis Kraounakis
Music: Stamatis Kraounakis, Aris Vlachos, Kostas Baltazanis
Choreography-Movement: Aggeliki Stellatou
Set & Costume Design: Takis Chatoupis
Video Art: Dick Straker
Music Director: Aris Vlachos
Piano: Aris Vlachos
Saxophone: Dimitris Tsakas
Drums-percussion: Spyros Panagiotopoulos
Electric & classical guitar: Dimitris Siambos
Bouzouki: Nikos Katsikis
Cast: Stamatis Kraounakis, with Manolis Mitsias and the Speira Speira company.