Aristophanes, The Knights
July 2012:
20, 21
Epidaurus - Ancient Theatre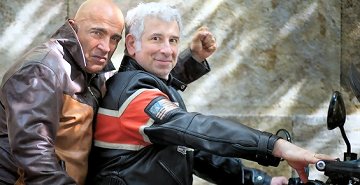 Stamatis Fasoulis and a celebrity cast promise a contemporary reading of The Knights (424 BC), Aristophanes' dramatically contemporary political comedy.
Translation & direction: Stamatis Fasoulis
Set design: Manolis Pantelidakis
Costume design: Deni Vachlioti
Choreography: Betty Dramisioti
Lighting design: Lefteris Pavlopoulos
Lyrics: Lina Nikolakopoulou
Music: Giorgos Christianakis
Cast: Agoracritus: Petros Filippidis, Paphlagonian: Yannis Zouganelis, First slave (Demosthenes): Takis Papamatthaiou, Second slave (Nicias): Pygmalion Dadakaridis, Demos: Yorgos Kafkas
And a 13-member Chorus – Coryphaeus: Giannis Siamsiaris
Co-produced by State Theatre of Northern Greece & Acropol Theatre
Who's to blame for the moral decline in public life? The power-hungry demagogue, or the people who, content with flattery and favours, will vote for anyone who "tickles their ears"? Are reprobate slaves the image of a corrupt master? Aristophanes' provoking satire gets to the heart of democracy and highlights the need for constant vigilance in the running of a state.