Aristophanes, The Birds
August 2012:
10, 11
Epidaurus - Ancient Theatre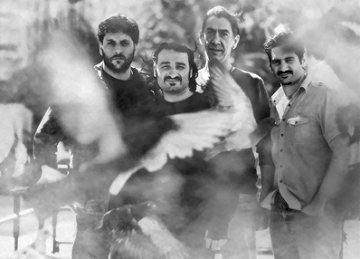 In times of crisis, the search for utopia makes a surging comeback. Armed with a worthy cast and Manos Hadjidakis' legendary music, Giannis Kakleas embarks on a directorial quest for a contemporary Cloud Cuckoo Land.
Directed and freely translated by Giannis Kakleas
Music: Manos Hadjidakis
Set design: Manolis Pantelidakis
Costume design: Valia Margariti, Manolis Pantelidakis
Choreography: Kyriakos Kosmidis
Lighting design: Giorgos Tellos
Music coaching: Alexios Priftis
Cast: Vassilis Haralambopoulos, Odysseus Papaspiliopoulos, Kostas Berikopoulos, Giorgos Chrysostomou, Agoritsa Oikonomou, Vaggelis Hatzinikolaou, Socratis Patsikas, Sofia Michail, Prokopis Agathokleous
Municipal & Regional Theatre of Crete
and Ivan Svitailo, Mara Vlachaki, Alain Rivero
Song: Stavros Siolas
A comedy for our times, The Birds was written in 414 BC in an Athens plagued by war, hunger, debt and decline. In desperation, two elderly Athenians leave and join forces with the birds to create the perfect city.