Concert of ancient Greek music by Lyravlos
June 2012:
23
Athens - Archaeological Park of Plato Academy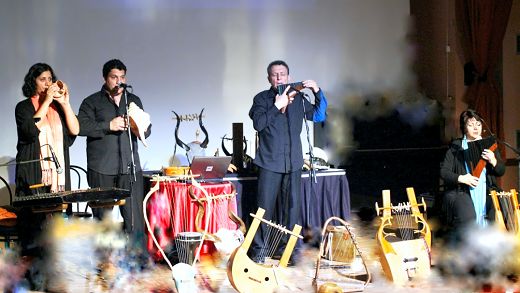 Lyravlos:
Michalis Stefos: song, percussion, shells.
Christina Siaki: lyre, phormynx, pandouris, violin.
Olga Stefou: lyre, varvitos, santouri (zither), seistron.
Panayiotis Stefos: ancient guitar, lyre, syrinx, shells, horn, Pythagorean monochord, diavlos, ascavlos (pibroch), zournas.
Hellenic music from Orpheus to the present day with 30 ancient Greek musical instruments.
The event will be held in the Archaeological Park of Plato Academy (Akadimia Platonos) in Athens at 20:30 – free admission. The map shows the entrance point at the corner of Tilefanous & Monastiriou streets.