The cruise vessel 'Panorama II' sail cruiser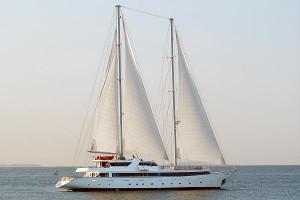 Sail Cruiser.
2 masts - 650sq.m. sails, 3 passenger decks, maximum 49 guests in 25 cabins, 16-18 crew members, dining room, outdoor bar & dining, sun deck with loungers & chairs, air-conditioned, TV & audiovisual equipment in lounge, internet & email service, special meals programs water sports equipment.
Flag: Greek, Length: 50m, Breadth: 11m, Draft: 4,5m, Cruising Speed: 10knots, Engines: Caterpillar 2 x 480B.H.P, Launched: 2004, Renovated: 2012
Outdoor and indoor public areas of the ship
The public areas of the two masted Panorama II, a sail assisted cruise vessel, include a main lounge with deep pile carpet and comfortable sofas.

At the Upper deck, the aft area provides generous semi covered or sun exposed areas.

The restaurant area is located at the Lower deck.

The swimming platform on Panorama II stern enables you to swim when weather and anchorage conditions permit.
Cabins on the 'Panorama II' sail cruiser
All cabins are outside ones, have individually controlled air-conditioning and are fitted with TV, telephone for internal use, hairdryers, hairdryer adapters (voltage: 220 V), mini-fridge, central music, public address system and mini safe box.
The fully equipped bathrooms (showers) are finished with marble.
Cabins may have twin or queen sized beds.
'A' category cabins have windows while the ones of categories 'B' & 'C' have portholes.
* The here presented cabins categorization may be subject to change.
Deck plans of the 'Panorama II' sail cruiser
Click on the images below for larger view of each deck