The cruise vessel 'Harmony G' mega yacht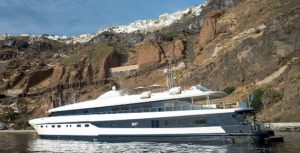 Motor Yacht cruise vessel.
Stabilizers, 4 passenger decks, maximum 42 guests in 21 cabins, 16-18 crew members, bar, lounge, dining rooms (indoor & outdoor), sun deck with loungers & chairs, air-conditioned, swimming platform, water sports equipment, Wi-Fi (available at a charge).
Length: 54m, Breadth: 7,10 m, Draft: 3,65 m, Cruising Speed: 10 knots, Launched: 2001, Renovated: 2013
The 'Harmony G' complies with the most stringent SOLAS safety regulations ,while its powerful engines and state of the art stabilizers allow for safe and comfortable cruising.
Outdoor and indoor public areas of the ship
The vessel features a Sun Deck with a sitting area with ample sun loungers' space to bask under the sun, read a good book or just gaze at the scenery.

On the Upper deck there is the interior lounge with relaxing couches and comfortable lounge chairs, as well as the outdoor dining area where meals are served "al fresco" depending on the weather.

On the Main deck the spacious dining room, being surrounded by large windows, seats all passengers in a single, unassigned seating; food is served at the table or displayed on the state of the art hot & cold buffet which also includes an "a la minute cooking" section.

The swimming platform on Harmony G stern will allow for easy access to the ship and for a wide range of sea related activities.
Cabins on the 'Harmony G' mega yacht
All cabins have bathroom with shower, individually controlled air-conditioning, music channels, flat-screen TV, CD/DVD player, telephone, safe deposit box, mini fridge, hairdryer.
Cat. 'C' cabins have two portholes, all other categories have a large window.
Cat. 'P' cabins may have a double bed or twin beds (flexible bedding), cat. 'C' cabins have a double bed or twin beds, while the rest of the cabins have twin beds. Two cat. 'C' cabins may be converted into triple ones.

* The here presented cabins categorization may be subject to change.

Deck plans of the 'Harmony G' mega yacht
Click on the images below for larger view of each deck