Shore excursion to Thessaloniki
Cruise port: Greece - Thessaloniki
Duration: Half day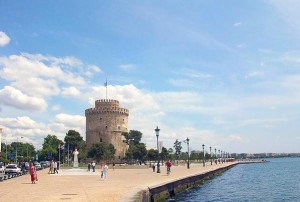 Join this half-day excursion featuring Thessaloniki's most popular landmarks and highlights.
From the pier, travel by air-conditioned motor coach into the city, where you will pause briefly for photos of the White Tower; an excellent example of post-Byzantine architecture, this building stands today as a majestic symbol of Thessaloniki.
At the Byzantine Museum, enjoy an hour perusing displays that feature artifacts from the Christian Era through the post-Byzantine period. Pieces to admire include sculptures, mosaics, painted tombs, embroidered fabrics and religious icons.
Back aboard your motor coach, continue past the International Trade Fair grounds and the Aristotelion University as you head to the Citadel. Here, enjoy a superb panoramic view of the city, with Mt. Olympus and the Thermaic Gulf in the background.
Your next visit will be to the 5th-century Basilica of St. Demetrius, the largest church in Greece. View an impressive display of mosaics and visit the basilica's crypt, where Demetrius, an officer of the guard, was confined.
Before returning to the ship, travel along one of Thessaloniki's main avenues, past the Arch of Galerius and St. George's Rotonda.
REMARKS
: It is recommended that guests wear flat, comfortable shoes. This excursion is not wheelchair accessible.
---