Sultanahmet Square
Land tour code: IST-13
Cruise port: Turkey - Istanbul
Duration: Half day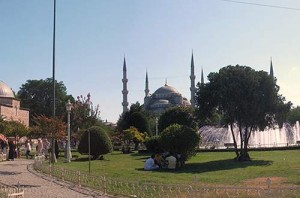 Your first visit will be to Sultanahmet Mosque. The Mosque is decorated with 21000 blue Iznik tiles from where it gets its name, the "Blue Mosque" and was built upon the orders of 20 year old Sultan Ahmed I, whose grave lies inside the mosque.
Walk to the world famous monument the Byzantine Church of Hagia Sofia. One of the most historically important monuments, built as a grand cathedral in the 4th century, it was dedicated to Holy Wisdom (an attribute of Christ). It was converted into a mosque after the conquest of Istanbul and today it is used as a museum. Fatih Sultan Mehmet added the four minarets after his conquest of Istanbul.
Proceed to the Basilica Cistern (also known as Cistern of Philoxenos or the "Sunken Palace"), a huge underground reservoir built in 532 AD. The cistern is located in the historical peninsula of Istanbul next to the Hagia Sofia. It is surrounded by a firebrick wall with a thickness of four metres and coated with a special mortar for waterproofing. The cistern's water was provided from the Belgrade Woods, which lie 19 km north of the city, via aqueducts built by the emperor Justinian.
The tour will return and end in Sultanahmet square with the option to either return to ship or have the opportunity to wander through the Grand Bazaar and discover some of the 4000 shops that it comprises.
REMARKS
: This tour involves easy walking: some walking over even surface included.
Shoulders and knees must be covered while visiting the Mosque and shoes must be removed.
---