Sublime Syros tour
Land tour code: SYR-03
Cruise port: Greece - Cyclades islands - Syros
Duration: Half day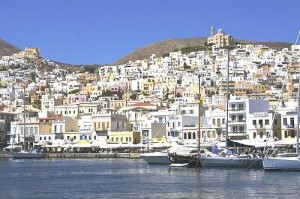 The port of Ermoupolis in Syros is the capital of the Cyclades group of islands and a UNESCO World Heritage site.
Our tour takes you south from Ermoupolis to Anastasi Church, above Ermoupolis, to visit this lovely domed church and to enjoy a breathtaking view of Tinos and Mykonos.
Then we drive through the beach villages of Vari, Megas Gialos, Possidonia, Finikas, Galissas and Kini: the beach at Vari, a traditional fishing village, lies along a sheltered bay, while the beach at Megas Gialos stretches beneath the brightly-painted houses of the village; Possidonia is home to a number of ornate mansions and a picturesque blue church.
We drive one kilometre from Kini to the Agia Varvara (Santa Barbara) Monastery, which was founded in 1900 and exhibits icons from the life of Agia Varvara and many stunning embroideries.
After Agia Varvara we stop at a traditional loukoumi (also known as Turkish delight) factory to see how loukoumi is made. After enjoying some samples, we return to Ermoupolis.
On arriving in Ermoupolis we leave the bus and continue on foot. We visit the church of the Dormition of Virgin Mary to admire El Greco's The Dormition of the Virgin, which was painted before 1567. We then walk to the Greek Orthodox Cathedral of Metamorphosis, the first high school of modern Greece and now part of the Aegean University. Our tour continues on to the impressive Orthodox Cathedral of Agios Nikolaos, then up the hill to the Vaporia district, to see the neoclassical mansions built by the island's bankers, merchants and ship owners. We travel downhill from Vaporia to the Apollon Theatre, the first opera house in Greece and a copy of La Scala in Milan, then on to the Museum of Cycladic Art and the Archaeological Museum, which hosts a number of treasures unearthed on Syros, Paros and Amorgos. We conclude our tour of sublime Syros in the centre of Ermoupolis, at the magnificent Platia Miaouli, which is adjacent to interesting shops and atmospheric cafés.
---