Cape Sounion & the Temple of Poseidon
Land tour code: LAV-06
Cruise port: Greece - Athens - Lavrio
Duration: Half day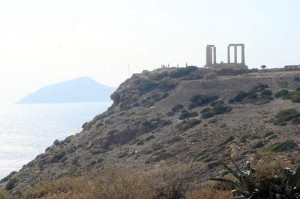 An approximate 30 min bus ride through the pine trees of Cape Sounion will bring you to the spectacular location of the Temple of Poseidon.
One of the first sites often visited by those on a Greece tour is the famed Temple of Poseidon at Cape Sounion, which is located along the southeastern tip of the Attica prefecture. You'll appreciate the positioning of the temple on a section of headland surrounded almost entirely by the Aegean Sea. The Temple of Poseidon was built atop the ruins of a previous temple in the year 440 BC. The original temple was destroyed by the Persians in 480 BC. Many archaeologists believe that the Temple of Poseidon at Cape Sounion and the Temple of Hephaistos at the Ancient Agora in Athens were designed by the same architect. It is remarkable that these two temples along with the Temple of Athena Aphaia in Aegina form a perfect isosceles triangle having the temple of Poseidon at its vertex. During its heyday, the Temple of Poseidon in ancient Greece would have had 42 Doric columns, of which only 16 remain today. The temple was made of marble found nearby and once housed a large statue of Poseidon in its main hall.
Poseidon was the Greek Mythology god of the seas, and it only seems fitting that a temple built to honor him should be found at water's edge. In ancient Greece, religion was based around the belief that different gods controlled various aspects of the natural world. To ensure good fortune, one would either pray, bear gifts or make sacrifices to the various gods in order to appease them. Although the Greek gods were immortal and had special powers, they were prone to experiencing the same emotions as humans. It was thus deemed necessary that they be kept happy. As ancient cultures in Greece relied heavily on the sea for commercial and spiritual purposes, it would only make sense then that the Greek god of the sea would hold a great deal of respect among ancient Greeks. Poseidon was very powerful, second only to Zeus, and he was believed to also be the controller of storms. The Temple of Poseidon at Cape Sounion was a place where sailors and governing bodies alike could honor Poseidon by offering gifts or making animal sacrifices.
REMARKS
:
This tour is available only to passengers who are not embarking or disembarking in Lavrion.
This tour involves moderate walking: moderate amount of physical activity such as walking over uneven surface and climbing stairs. Might not be recommended for passengers with walking difficulties.
---