Shore excursion to Veria
Cruise port: Greece - Thessaloniki
Duration: Half day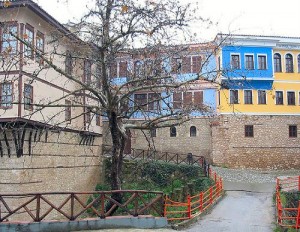 We start our tour by air-conditioned motor coach from the port of Thessaloniki, to reach the Citadel and visit the Vlatadon Monastery where St. Paul preached during his second missionary trip.
After that we leave Thessaloniki and after one hour drive we arrive in Veria, the city of "Berroia" as mentioned in the Bible, where St. Paul preached to the Jews. We pay a visit to the traditional Tribune where three steps in situ coexist with the recently created mosaic of the Saint to commemorate the event. St. Paul is the Patron Saint of the city of Veria.
The classical city, bearing the name of one of the mythological King Veris daughters and founded at the footsteps of mount Vermion, flourished during these years when huge walls were built to protect the city, part of which can still be seen at the entrance of the city; it was the first to surrender in 168 b.C to the Romans and developed into the second important city in the area after Thessaloniki.
During the Byzantine era it was the seat of many nobles who lived there exiled; that resulted to the foundation of a number of delicate small Byzantine small churches beautiful decorated with frescoes inside. Due to the existence of these churches, Veria is called the small Jerusalem. One of these churches, the Church of Christ is planed to be visited next. It is a construction of the early 14th century bearing inside the representative masterwork wall paintings of the most famous painter of this era, named Kalliergis, who worked mostly in this area.
During the Ottoman occupation, Veria was an important commercial and cultural center with many mosques, the old market and beautiful mansions.
Today it is the capital of the prefecture and it is the biggest export center of all agricultural products in the district.
There will be some free time for individual visits and then we drive back to the port of Thessaloniki.
---