Santorini's islands & volcano
Land tour code: SAN-02
Cruise port: Greece - Cyclades islands - Santorini
Duration: Half day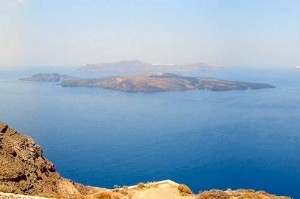 The little islands of Palea and Nea Kameni are of particular geological interest, since underneath them lightly slumbers an active volcano.
From the cruise ship you will be transported easily within a few minutes by small boat to Nea Kameni, an islet where black lava rocks and white pumice are combined beautifully with the red colour of lava. You will walk up to the verge of the crater, the heart of the volcano, a unique geological phenomenon. Enjoy this lunar landscape as your guide narrates the creation and history of the volcano: its last eruption led to the destruction of the island of Santorini and the tidal wave created by the eruption was of such an immense magnitude, it destroyed the thriving city of Knossos on the island of Crete. Nowadays, in Nea Kameni there is gas-steam activity at the top of the crater, while its beaches are embraced by thermal springs.
The next stop of this special excursion, is Palia Kameni with its therapeutical, warm waters. The sea temperature here is 5°C higher than in the rest of the locations and the green-yellow water contains sulphur.
Your excursion will end in Fira, where you will have free time to explore this fascinating town.
Finishing your trip, you will descend by funicular to the Old Port to reach the cruise ship by small boat.
REMARKS
: Hard walking: high amount of physical activity for extended periods of time - Recommended only for passengers in a good physical health.
Please note that the water at the hot springs is reddish brown in colour and may stain light coloured swimsuits.
---