Santorini, Akrotiri village excavations
Land tour code: SAN-08
Cruise port: Greece - Cyclades islands - Santorini
Duration: Half day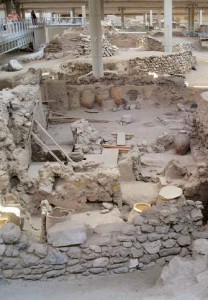 In prehistoric times, the people who inhabited what today is known as Santorini, called the island Strongyle ("round"). These people enjoyed a high standard of living: they built two-story houses, tilled the earth and were skilled artists, recognizing the beauty of color. Around 1650 B.C., a volcanic eruption caused the centre of Strongyle to sink, leaving a caldera with high cliffs - one of the world's most dramatic geological sights.
You will be transferred from the ship by local tender boat to Athinios port, where you will join the waiting motor coach. From here you will proceed towards the southern part of the island of Santorini, where you will visit the ruins of the famous windmill for a short stop; here you will have the opportunity to enjoy the panoramic view and capture amazing photos.
After that, we will proceed to the famous archaeological site at Akrotiri. You will virtually be taken back in time while strolling around these amazing excavated ruins. It is remarkable that there were no people left in the village at the time of the eruption, an archaeological mystery that remains to be solved. The ash from the volcano buried the city, preserving many of its structures and some of its incredible frescoes.
You will see buildings that were once two storied, city squares, shops and working areas. This appeared to have been a busy bustling area before the eruption. Some of the most famous Greek frescoes can be found in what is left of the once prominent and disposing homes. Some of the frescoes are also on display at the Pre-historical Museum in Fira town. It is often said in a whimsical way that perhaps Akrotiri is really the lost city of Atlantis.
Finally, you will be taken by coach up to the capital of Santorini, to Fira town, where your tour will end after a short walk at the Metropolis church, which is famed for its elegant construction and its beautiful frescoes.
From there you may decide whether to stay in the town and do a bit of shopping or to make your way back to the ship directly by taking the cable car to the pier below.
---