Samos 4 x 4 adventure
Land tour code: SAM-04
Cruise port: Greece - North Aegean - Samos
Duration: Half day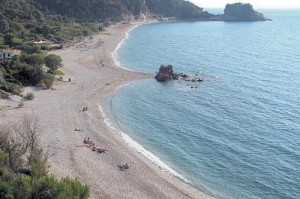 Get acquainted with the verdant island of Samos with this exciting four-wheel-drive experience, which includes a visit to a beautiful beach for a chance to swim and sunbathe.
At the pier, you will get into your Suzuki-type four-wheel-drive vehicle to begin your island exploration. The manual-transmission jeep-type vehicle is self-driven, with either you or your travel companion taking the wheel. Your guide will be in a lead vehicle, ensuring that you see the best of Samos without having to navigate its roads on your own.
The route takes you northeast, to the part of Samos considered to be the most interesting and beautiful. Making your way around the Bay of Vathi, venture through the pine-forested region of Malagari before passing the picturesque fishing village of Kokkari. Nearby is Lemonakia, one of the most dazzling coves on Samos.
The road next leads to a forest of plane trees and the lovely Valley of the Nightingales. Named for the nightingales that can often be heard singing high up in trees that line the river, the valley offers a cool oasis on hot summer days.
Following a brief stop to admire the view, enjoy the 30-minute drive to Potami beach, a breathtaking stretch of white pebbles and sand.You will have the opportunity to swim in the crystal clear waters and relax in the sun.
---