Rhodes Old City Walking Tour
Land tour code: RHO-11
Cruise port: Greece - Dodecanese islands - Rhodes
Duration: Half day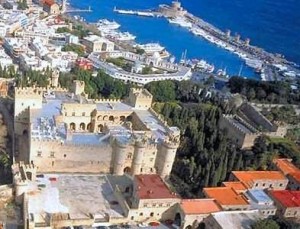 Walking along the paved Street of the Knights -one of the best preserved medieval arteries- you will come across residences of people of several different historic nationalities, who once belonged to the Order of the Knights of St. John of Jerusalem.
Before you reach the Palace of the Grand Master, you will bide for a while around the area of Bourgos and the Mosque of Suleiman the Magnificent, erected in 1808, the Turkish Baths, the Hospital of the Knights (which now houses the Archaeological Museum) and the Church of Our Lady of the Castle built in the 11th century.
The Palace of the Grand Master of the Knights of Rhodes, the "Castello", is the most imposing building of medieval Rhodes. It was initially built in the 7th century A.D. in the form of a Byzantine fortress. In the 14th century, the Knights of St. John of Jerusalem turned the building into the residence of the Grand Master, as well as the administrative centre of the Order. After the island was captured by the Ottoman empire, the palace was used again as a fortress and was largely destroyed by an ammunition explosion in 1856. When the Kingdom of Italy occupied Rhodes in 1912, the Italians rebuilt the palace in a grandiose pseudo-medieval style as a holiday residence for Victor Emmanuel of Italy and later for Benito Mussolini. In 1948, Rhodes and the rest of the Dodecanese were transferred to the Greek Kingdom and the Greeks converted the palace into a museum.
REMARKS
: Walking in the sites can be on uneven gravel surfaces.
Passengers may not be allowed to enter the site with big bags/rucksacks.
---